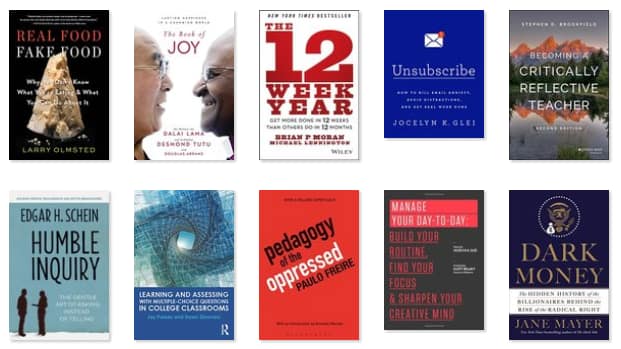 I am continuing to work toward my goal of having read 20 books in 2017. My progress gets tracked on Goodreads, which provides a fun way to see what friends (and partners) are reading, not to mention what others who are strangers, but who have similar tastes as me, are reading.
If you have been listening to the Teaching in Higher Ed podcast for a while now, you know that guests often recommend books. The list of books I want to read is long – and getting longer all the time.
I thought I would list the top ten books I want to read in order to see if there are any members of the Teaching in Higher Ed community who are also interested in reading them. We could put together an informal book club, maybe on the Teaching in Higher Ed Slack Group, to try to tackle one or two during the upcoming holiday break. Or, we could schedule a time or two to connect via a virtual conference to discuss a book or two.
In no particular order, here are ten books I am interested in reading:
If you would like to participate in an informal book club with others in the Teaching in Higher Ed community, please complete this brief survey.
If the survey does not show up on your email client, you can respond on this blog post's page.
If at least ten people show interest, I commit to exploring the feasibility of pulling something together in late December / early January. Otherwise, I will enjoy some solitary reading and to hearing what you wind up reading over the break. Speaking of which…
What book(s) are on your list to read in the near future?