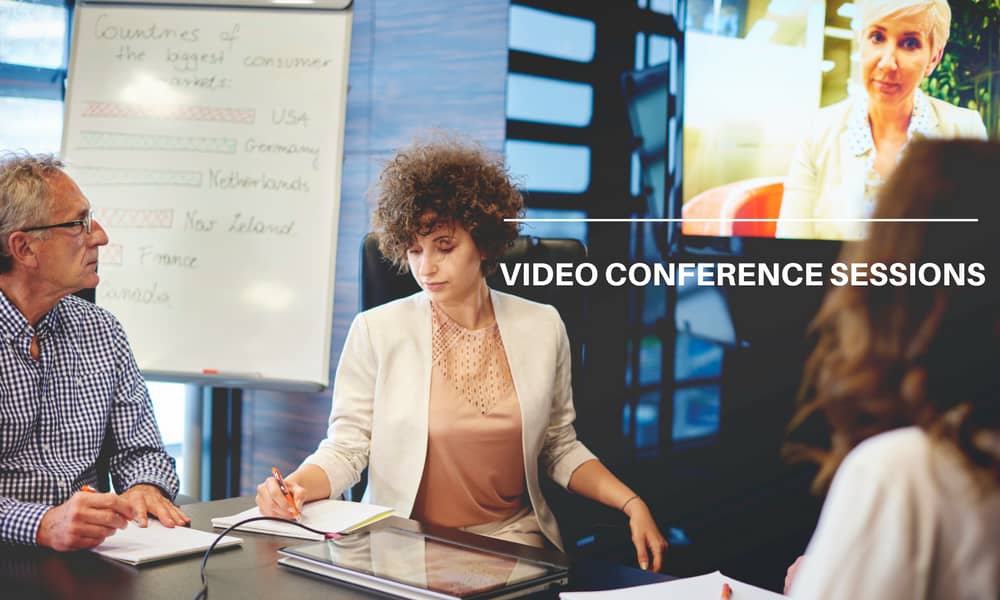 Yesterday, I had a virtual conference with three people in New York who I've never met in person. Today, I connected, online, with Doug McKee for an upcoming episode of the Teach Better podcast. Tomorrow, my department is interviewing someone, virtually, for an open faculty position we have.
When I woke up this morning, I saw the listing of all the Virtually Connecting sessions that are going on surrounding the New Media Consortium's annual conference. Virtually Connecting makes it possible for those of us who aren't able to get to every conference we would like to (which I imagine might be all of us) to connect with people who are there and to have opportunities to learn from them.
The Virtually Connecting manifesto shares more of their values, motives, and goals.
People from all over the world join the sessions via their laptops and get to speak with presenters and others who are engaged at the event. Some conference presenters bring Virtually Connecting into their sessions (group conversation / workshop or virtual breakout session), while others share mover informally in-between the events they're attending in-person (hallway conversations).
As I reflect on how many times I'll be connecting with others on some type of virtual conference this summer, that number pales in comparison to when I'm in a season of teaching.
I use synchronous conferencing tools for all my classes (which are primarily taught in a blended format). Students also connect with me virtually for office hours, as do the faculty I coach in my role as Director of Teaching Excellence and Digital Pedagogy.
Zoom
My preferred synchronous video conferencing tool is Zoom. It is easy to use, is the closest thing I've ever found to feeling like I'm in the same room as the others who are on a session, and has crystal clear audio and video. I'm not alone in my affection for Zoom. Doug McKee describes how he uses Zoom in his teaching.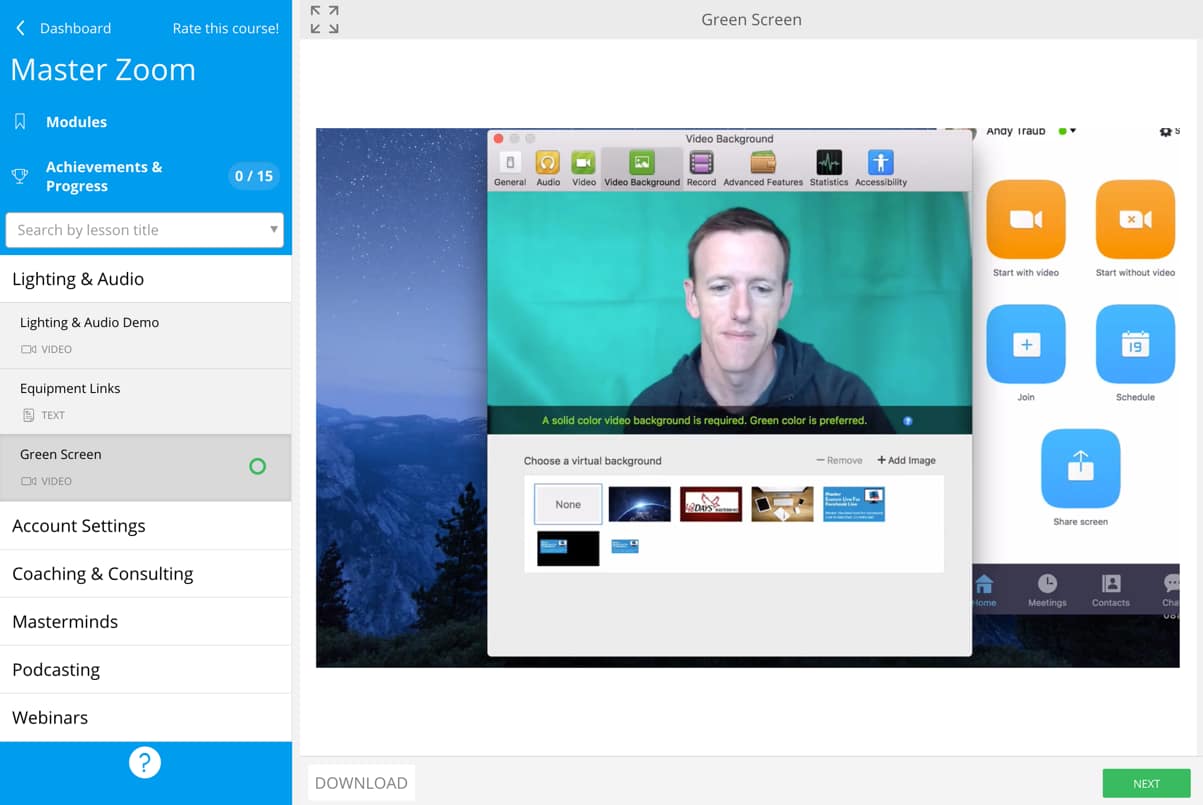 For more information on using Zoom to its fullest, check out Andy Traub's Master Zoom course.
Recommendations for Better Video Conferencing
In this post, I'll provide recommendations for how to make virtual sessions you either lead or participate in better. I'll also let you know what tools you can use to most of the opportunities to connect.
Get the lighting right
The lighting in the room you're participating from makes a big difference in how welcoming you can be perceived to others on the session. You want most of the light sources to be coming from in front of you, not behind you.
If you're unable to make that happen with your existing lighting, consider purchasing a desk light that will accomplish that feat for you. This one was recommended on a professional Zoom course that I took, recently:
TaoTronics Desk Lamp, LED Desk Lamp with USB Charging Port, Dimmable LED Desk Lamp Eye- care, Metal, Glare-Free, 5 Color Temperatures with 5 Brightness Levels, Touch Control, Memory Function
In particular, the warmth of the light makes a big difference and I wouldn't purchase a light that didn't have that option available.
Pay attention to the camera level
If you're participating in a session using some kind of a device or your laptop, be sure you haven't positioned the camera to be giving a nice shot of your neck and nostrils.
Use something to raise the level of your device up high enough that it is pointed toward your eyes and is fairly level (if not pointing slightly down at you).
I've used a stack of notebooks, a lap desk, and even a couple of pillows to accomplish this task. No one on the session is going to see what you have your laptop resting on, but they will notice if you are literally looking down at them the entire time.
If you're using a smart phone or a tablet to connect, virtually, consider getting an inexpensive tripod or multifunctional device to capture your video at the proper level. Or, you can get creative with stacking books, as well.
I probably could  have saved myself the four paragraphs, above, and just posted this picture of the difference it makes to have the camera at a good level. Hello chin! Hello nostrils!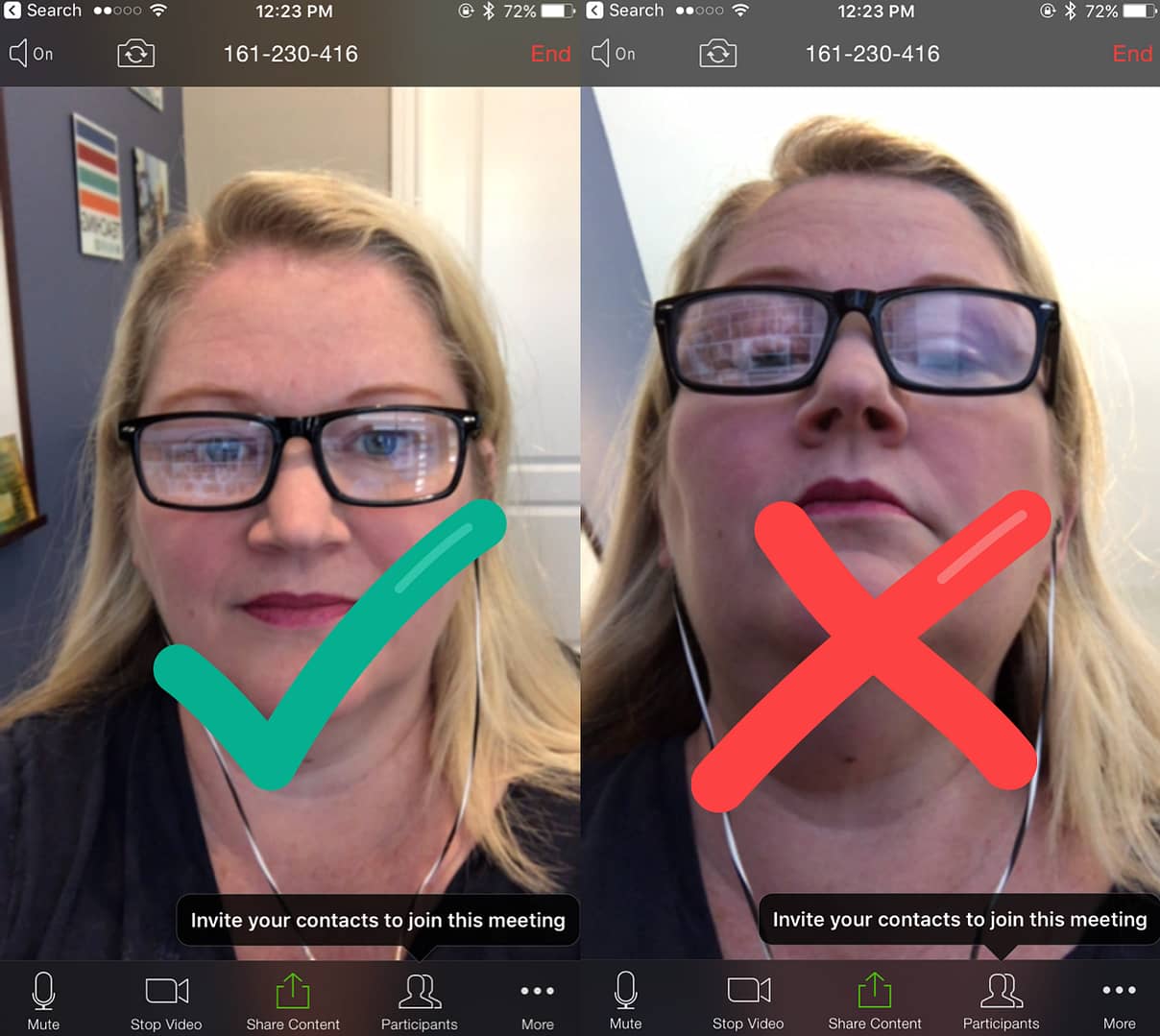 Avoid feedback noise
When you're on an online session, the noise that comes out of your speakers can be picked up by your computer's microphone and can start to cause feedback.
Depending on the way you're connecting, this won't necessarily happen 100% of the time. However, it is a good idea to always have a headset that has a microphone, to ensure that you won't be causing all the other attendees to cringe as they hear the feedback amplifying in their ears.
Overall, avoid having the sound come out from your computer, but get it playing in your ears, instead.
Make eye contact
When you look at a web cam, you simulate eye contact with the attendees. If you look at the video of the other people in the session, you will appear to be looking down.
The goal is to be doing two things, simultaneously:
Read the expressions on other attendees' faces and identify ways that we might better engage them, while…
Looking like we're making eye contact with the "audience."
When in a session with a small number of people, it's typically feasible to position the video of the others' faces in such a way that it is near your web cam. That way, when you watch the video of others, you're also looking toward the camera and will appear focused on what's happening.
If presenting in front of a larger group, you may want to spend more time looking directly at the web cam and then making glances at the chat box and the video of attendees.
Here is a video of me showing some of the dos and don't for live sessions involving eye contact, lighting, and distractors.
Let them know who you are
Most online, synchronous tools have some way for you to indicate who you are. Google Hangouts has the lower third banner, where you can include your name and a title, as well as a logo. Social Traffic Lab shows us how to create our lower third, when we join a Google Hangout.
Other tools have you simply type your name when you join the session. Be sure to use the name that you would prefer people refer to you as on the session.
Your Turn
What advice do you have for people who are participating in or leading virtual, live sessions?
How do you balance out the desire to have everything "perfect," and potentially missing opportunities to engage, waiting to reach that point?