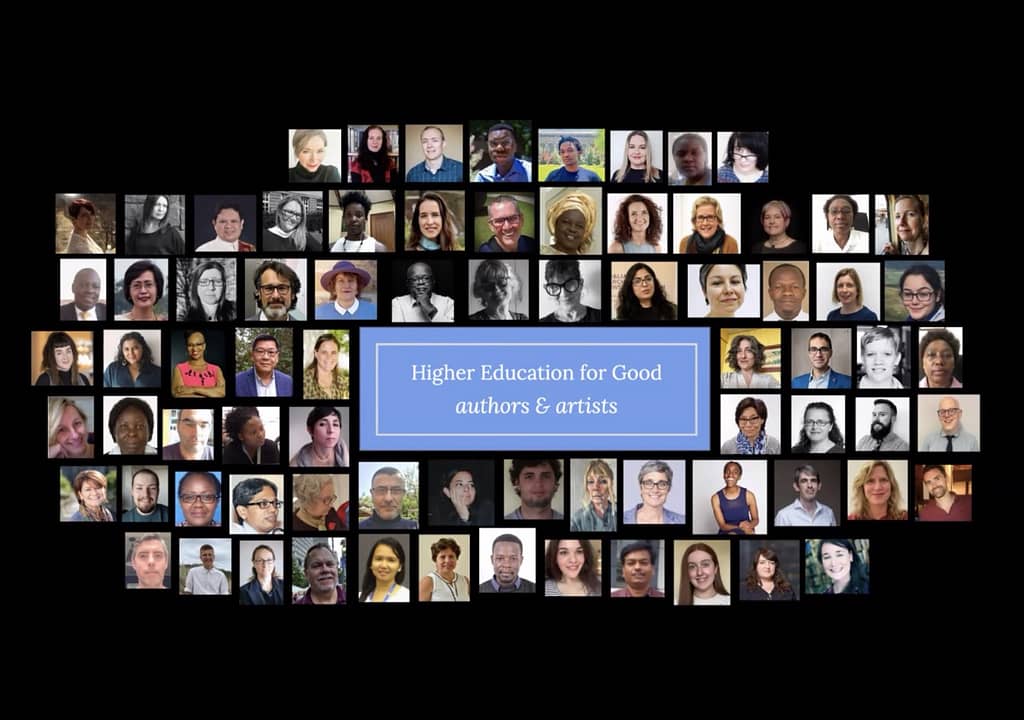 What a way to start my week!
November 20, 2023, I attended an online launch celebration event for a magnificent project. The book Higher Education for Good: Teaching and Learning Futures brought together 71 authors around the globe to create 27 chapters, as well as multiple pieces of artwork and poetry. Editors Laura Czerniewicz and Catherine Cronin shared their reflections of writing the book and invited chapter authors, and Larry Onokpite, the book's editor, to celebrate the release and opportunities for collaboration. In total, the work represents contributions from 29 countries from six continents. Laura Czerniewicz was invited to talk about the book by the Academy of Science of South Africa (ASSAf), where she describes the values of inclusion woven throughout this project.
Higher Ed for Good Aims
At Monday's book launch, Laura shared how the authors aimed to write about the tenants that were directed toward the greater aims of the book. Catherine described the call for authors to engage in this project, such that the resulting collection would help people:
Acknowledge despair

Engage in resistance

Imagine alternative futures and…

Foster hope and courage
Laura stressed the way articulating what we stand for and not simply what we are against is essential in facilitating systemic change. Quoting Ruha Benjamin, Laura described ways to courageously imagine the future:
Only by shifting our imagination, can we begin to think of a world that is more egalitarian, less extractive, and more habitable for everyone not just a small elite.
It was wonderful to see the community who showed up to help celebrate this magnificent accomplishment. Toward the end of the conversations, someone asked about what might be next for this movement. Frances Bell responded by joking that she wasn't sure she was necessarily going to answer the question, as she is prone to do. Instead, she described her use of 'a slow ontology,' a phrase which quickly resonated with me, even thought I didn't know exactly what it meant.
In some brief searching, I discovered a bit more about slow ontology. My novice understanding is that slow ontology asks the question of what lives might look like, were we to live them slowly and resist the socialization of speed as productivity and self-worth. Ulmer offers a look at a slow ontology for writing, while Mol uses slowness to analyze archeological artifacts. One piece I absolutely want to revisit is Mark Carrigan's Beyond fast and slow: temporal ontology in critical higher education scholarship. 
Next Steps
I'll have the honor, soon, of interviewing Laura and Catherine for the Teaching in Higher Ed podcast. I'm ~30% through Higher Education for Good and am glad I don't have to rush through the reading too quickly. I mentioned as a few of us remained online together after the book release celebration that reading Higher Education for Good and Dave Cormier's forthcoming Learning in a Time of Abundance has been an interesting juxtaposition. Rissa Sorensen-Unruh described a similar serendipity of reading Belonging, by Geoffrey Cohen at the same time as Rebecca Pope-Ruark's Unraveling Faculty Burnout. After skimming the book description of Belonging, I instantly bought it… adding it to the quite-long digital to-read stack. I suppose that while I struggle with slowing down, that challenge doesn't apply when it comes to my reading practice.
Resources: