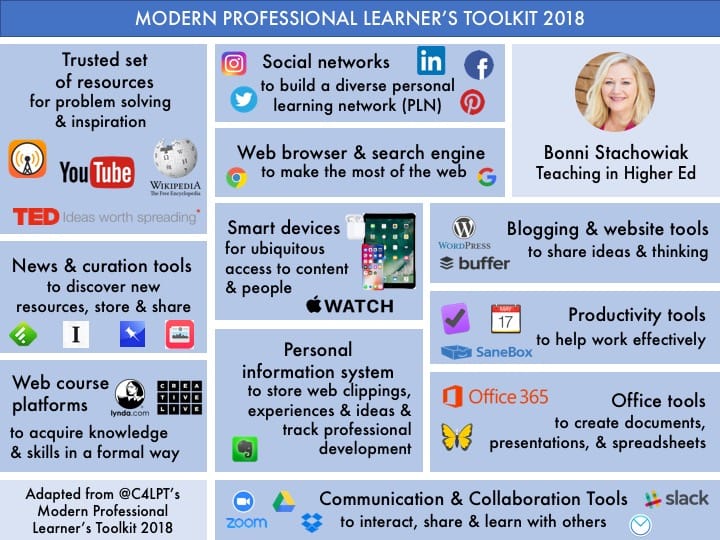 Each year, I participate in Jane Hart's Top 100 Tools for Learning survey. In recent years, she broke the list out into three categories:
My 2017 votes included tools that fit into each of those three categories.
After publishing this year's list, Jane Hart developed A Modern Professional Learner's Toolkit for 2018. These are tools that pursue and support lifelong learning, such as social networks, web course platforms, news and curation tools, and communication and collaboration tools.
In this post, I share my professional learner's toolkit, with links to the tools I use. At the conclusion of this blog, links to others' posts with their own toolkits will be shared.
My Professional Learner's Toolkit
Learning is central to my work and sense of purpose. I enjoy finding tools that help me locate resources that will contribute to my growth, synthesize and organize that learning in such a way as to have it be useful to me now and in the future, and then be able to share what I am learning with others.
Trusted Set of Resources for Problem Solving and Inspiration
The majority of my time taking in new information is spent within my preferred podcasting app: Overcast (iOS). I find podcasts to be an ideal way to learn, since I can take them with me wherever I go. My favorite podcasts are ones that I look forward to listening to each chance I get.
Wikipedia, YouTube, and TED Talks are other sources for inspiration.
Social Networks to Build a Diverse Personal Learning Network (PLN)
Twitter represents the majority of my personal learning network (PLN) connections. It is staggering to me how much I have learned from being in community on this platform. I also enjoy the opportunities to keep up with professional connections and former students on LinkedIn. Instagram is great fun for compelling photographs (like these from National Geographic and these that were #shotoniPhone). Pinterest is fun for ideas for our kids, as well as recipes that I never use (#aspirational). Facebook gets less and less valuable for me, though I am glad to be able to reach out to people when I have lost track of their email address.
Web Browser and Search Engine to Make the Most of the Web
I browse primarily on the Google Chrome browser. It tends to be the most compatible with the web tools I use. However, it is worth mentioning that the Apple Safari browser keeps coming out with cool new features that make me wonder if I should check it out. Google meets my needs as far as search goes, though I know this is an area I should explore more.
News and Curation Tools to Discover New Resources, Store, and Share
I have written and spoken extensively about my personal knowledge management (PKM) system. This post describes my PKM tools, including Feedly, Instapaper, and Pinboard. Recently, I have started reading more on Apple News. I am also getting tempted by the RSS reader Innoreader as a possible replacement for Feedly. Since it supports subscribing to students' blogs and bringing them into a common feed, as described by Laura Gibbs on her Innoreader post.
Smart Devices for Ubiquitous Access to Content and People
Browsing content on my iPad is incredibly easy. I spend about an hour a day reading on the iPad, usually just before bed. My iPhone and Apple Watch are good companions, particularly for listening to podcasts. The AirPods represent one of my all-time favorite gadgets in recent years, as they make listening to content via my iPhone, iPad, or Apple Watch even easier.
Blogging and Website Tools to Share Ideas and Thinking
My blog is a self-hosted WordPress site on the FlyWheel web hosting service. Buffer helps me spread out content that I want to share on social media. On "good weeks," I spend about an hour setting content up to be shared throughout the week.
Productivity Tools to Help Work Effectively
I have also shared quite a bit about my productivity systems over the years. Most essential to my productivity systems are my task manager (OmniFocus), my calendar (Fantastical), and my email "assistant" that moves unimportant emails out of my inbox (SaneBox).
Web Course Platforms to Acquire Knowledge and Skills in a Formal Way
Lynda.com has content for learning software, business, and creative skills. This link will let you try Lynda.com for ten days. If you wind up signing up, we receive a small referral. I am also really enjoying the course I am finishing with CreativeLive on storytelling through podcasting, with Alex Blumberg. You can get $15 off your first class using this link. I'm also taking Katie Linder's The Academic Book Promotion Toolkit course, which is fantastic.
Personal Information System to Store Web Clippings, Experiences and Ideas, and Track Professional Development
Evernote is my tool of choice for when what I want to save is better being kept private. Otherwise, Pinboard is what I use under the News and Curation Tools (above). Evernote is also where I track my goals, and professional development pursuits.
Office Tools to Create Documents, Presentations, and Spreadsheets
I primarily use Office 365 applications for creating documents (Microsoft Word), presentations (PowerPoint), and spreadsheets (Excel). Most of my blog posts start out in a text-based, Mac writing app called Ulysses. That's also where each podcast episode's show notes begin, until they get moved over to WordPress.
Communication an Collaboration Tools to Interact, Share, and Learn with Others
At my recent keynote for the DET/CHE 2017 conference, I asked people what their favorite collaboration tools were. The web conferencing tool, Zoom, was given more than any other answer (by a lot). I'm a huge fan, as well. My second go-to collaboration tool (particularly when it comes to sharing) is Dropbox. However, Google Docs is a stand-out for it's ease of use when wanting to collaborate on a document.
Other Posts on Professional Learning Toolkits
After Jane Hart's original post about her professional learning toolkit, many others have followed suit. Here are some of the posts that resonated with me and inspired me to share my toolkit:
Your Turn
What tools did I not mention that are stand-outs in supporting your learning?