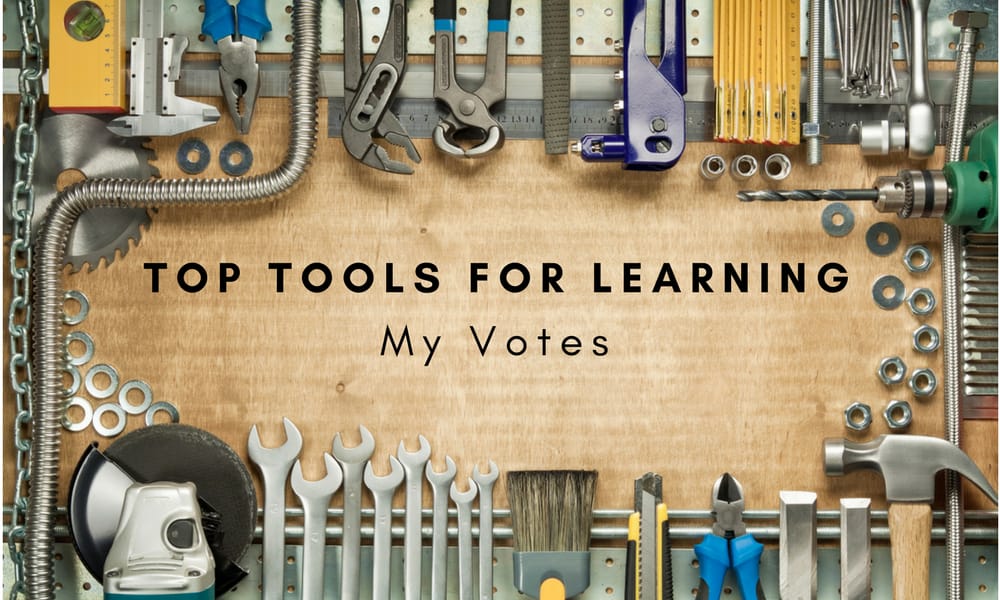 My vote on the top 100 tools for learning
Jane Hart is conducting her annual survey of Top 100 Tools for Learning. The following are my top ten tools for learning, categorizes under Jane Hart's structure of: education, personal and professional learning, and workplace learning. You can also check out my 2016 votes, many of which carried across into this year.
Another related post worth checking out is Harold Jarche's Top Tools 2017. I'm glad (sort of ) that I made my list first. Otherwise, I definitely would have been influenced by his mentions of: Slack, 1Password (absolutely essential), and WordPress.
Education
Zoom – There's something that happens in communication when you can see another person and hear the sound of their voice. Zoom makes one-on-one conversations rich, not to mention entire classes. People can get set up simply and start connecting right away. I especially enjoy their breakout rooms feature, which is easy to use and gives the ability to have people discuss topics in smaller groups.
PollEverywhere – I'm a big believer in using retrieval tactics to strengthen student learning. PollEverywhere allows me to pose various types of questions to learners and have complete control over whether their results are displayed and when. Learners can give their answers to the questions that are posed via their smart phones, tablets, computers, or even via Twitter. Quizlet is another good tool for retrieval practice, especially Quizlet Live.
Glisser – I only just recently started using Glisser, but am really appreciating its ease of use and way to engage learners. It allows us to present slides, use polls, show videos, have students ask questions, allow people to tweet out slides from our slide deck, and more.
Canvas – Our university switched to the Canvas LMS just over a year ago and I'm still a big fan. I do believe in still thinking outside the LMS, though I appreciate the opportunity for grades and feedback to have a confidential, two-way place to occur.
Personal and professional learning
iTunes (podcasts)  – Learning never has to end with podcasts. They are like shows on the radio, but without having to be listening at the exact time the show airs. I listen to podcasts daily, using an app called Overcast, which accesses the iTunes podcast feed for the various shows I like to listen to… I can pretty much never keep up with all the wonderful resources that are out there in the form of podcasts, but it is fun to continually try.
Twitter – My personal learning network (PLN) completely changed when I started using Twitter regularly. Twitter is a social network that's value comes forth when you connect with "people who are like you – and also people who are not like you" (Peter Newbury on Teaching in Higher Ed).
Feedly – I still have fond memories of walking to a nearby bagel shop and reading the newspaper in my 20s. Now that I'm in my 40s, we have far superior newspapers. We can read them on our various devices and customize them to our exact preferences. Using Feedly, I can subscribe to the blogs and news sources that I want and have Feedly keep track of which stories I've read, already, and which ones are still unread. When I stop finding value in a particular source, I just unsubscribe on Feedly and can further increase the value of my virtual newspaper.
Pinboard – I can send articles that I want to bookmark (save for reference) from my preferred newsreader over to Pinboard.in, without having to leave the app. I have bookmarks saved on edtech,  open textbooks, productivity, blended learning, humor, parenting, and hundreds of other topics.
Workplace learning
Clarify – Another thing I did in my 20s (but this activity was a lot less fun than walks to the bagel shop) was make documentation. If you ever find yourself needing to build a how-to manual, Clarify will make this process incredibly easy for you. You just walk through the steps it takes to perform a function and have Clarify take screenshots along the way. You can add instructions and arrows/steps/annotations on your screenshots. When you're done, there are a myriad of export options, which can be customized so you get your documentation just the way you want it.
SnagIt – I've never been as concise as I would like to be, but SnagIt helps me move closer to that goal. When someone asks me a question, I can just take a screenshot (a picture of what's on my screen) and draw arrows and add text to give the answer in the proper context. I can also "video" what's on my screen (screencast), whether for the purpose of answering a question, or giving feedback on an assignment.
What tools have you found to be especially helpful in facilitating learning, or in contributing to your own personal and professional development? Comment below, or consider submitting your own vote for the 2017 top 100 tools list.