Podcast (tihe_podcast):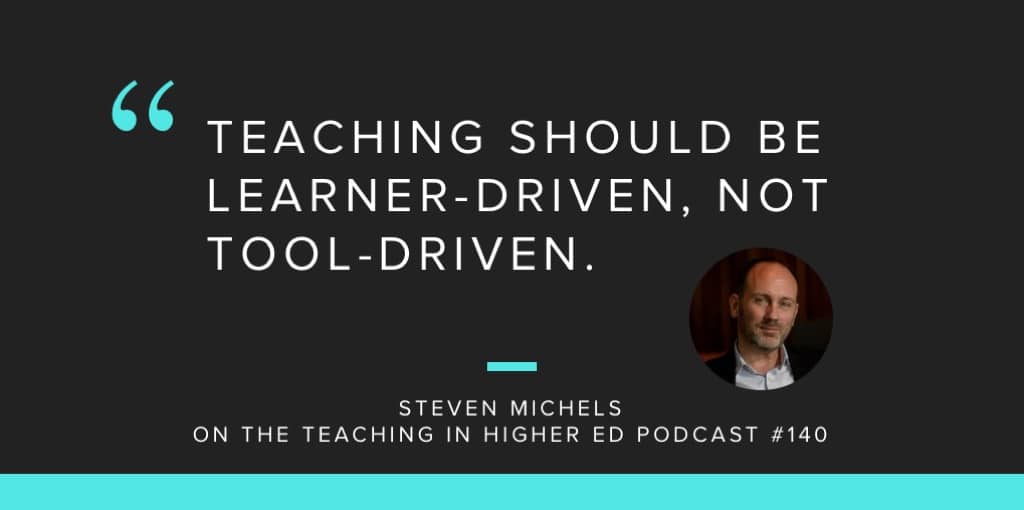 Steven Michels helps us think outside the LMS on episode 140 of the Teaching in Higher Ed podcast.
Quotes from the episode
Every technology suggests how it should be used.
–Steven Michels
The hub of any class should be the discussion board.
–Steven Michels
Teaching should be learner-driven, not tool-driven.
–Steven Michels
Technology is better at bringing the world into the classroom than it is in taking the classroom out into the world.
–Steven Michels
Anything we can do as faculty members and professors to harness this natural love of learning that our students have … I think is a good thing.
–Steven Michels
Resources Mentioned
Are You Enjoying the Show?
Rate/review the show. Please consider rating or leaving a review for the Teaching in Higher Ed podcast on whatever service you use to listen to it on (iTunes, Stitcher, etc.). It is the best way to help others discover the show.
Give feedback. As always, I welcome suggestions for future topics or guests.
Subscribe. If you have yet to subscribe to the weekly update, you can receive a single email each week with the show notes (including all the links we talk about on the episode), as well as an article on either teaching or productivity.