I am going to be traveling more than usual this Fall.
I will have the honor of being the keynote speaker for the University of Georgia College of Education's Innovation in Teaching conference in October. Florida International University has also selected me as a keynote for their FIU Online Conference: Learning Inspired in November.
Some of the other workshops and conferences I'm speaking at allow me to stay local, but still require coordination and planning.
These upcoming speaking engagements have got me thinking of ways to reduce the stress that can sometimes come with travel. In this post, I recommend some products and services that make life easier when I'm on the road. At the end of the post, I invite you to share your suggestions with the community.
TripIt
I wonder how I ever traveled without having access to TripIt. This service allows us to forward all our travel-related items into a single email address and have all the information collated into one place. When I receive an email about my plane tickets and flight times, I forward that message to my TripIt email. Once I book my hotel, I forward the communication to my TripIt account and know that everything I need will be in one place.
Whenever I email a trip-related message to TripIt, it either creates a new trip, if it doesn't see anything happening on those same dates, already. Otherwise, it adds the information to an existing trip.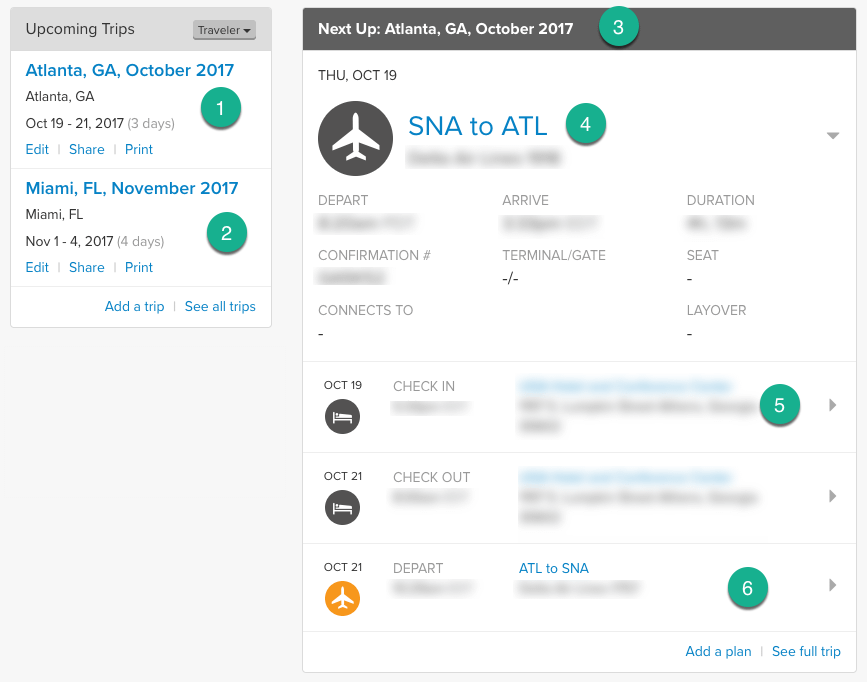 The main screen of TripIt has all my trips in one place, such as the (1) trip to Georgia for the Innovation in Teaching Conference, or the (2) trip to Miami for the FIU Online Conference. I can click through to see more detail on any trip, including the (4) detailed flight information, (5) hotel details, rental car reservation, and (6) departing flight details.
TripIt is what is known as a freemium service, meaning they give us a lot for free in the hopes that we'll be even more excited to pay for additional features. I have found the free version more than sufficient, but will admit that this Fall has me thinking that maybe it would be worth the $49 for even more convenience.
TravelPro Platinum Magna Suitcase
No one can ever accuse me of not getting good use out of my suitcases. I used my old travel bag until the wheels literally fell off (sadly, during a trip). When I decided it was time to upgrade, I went to one of my go-to sources when buying something new: The Wirecutter.
If you are not already familiar with The Wirecutter (and its accompanying site – The Sweethome), it is time to take a look.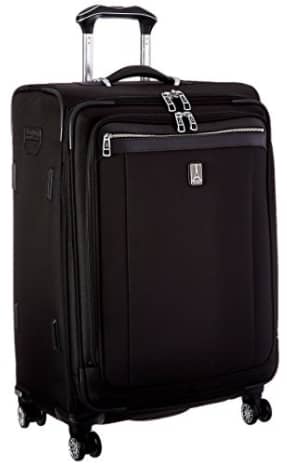 Here's how they describe themselves:
The Wirecutter and The Sweethome (part of The New York Times Company) are lists of the best gadgets and gear for people who quickly want to know what to get. When readers choose to buy our independently

chosen editorial picks, we earn affiliate commissions that support our work.
I wound up purchasing their recommendations for a checked bag suitcase (Travelpro Platinum Magna 2 25-inch Expandable Spinner Suiter) and a carry on suitcase (Travelpro Platinum Magna 2 22″ Expandable Rollaboard Suiter). What a difference a bag makes…
The wheels on the suitcases are smoother than any I've ever used before. They have a detailed explanation on their website for why they did not wind up recommending hard case suitcases.
I also agree with a commenter on their site that the dimensions on carry on baggage can be deceiving. When I travel, I almost always check one bag and just carry a small bag or backpack with me on the plane. I like to avoid stressing out over whether there will be enough room in the overhead compartment by the time I get to my seat.
iPad Pro with Apple Pencil
Some of you may have heard on a recent episode of Teaching in Higher Ed of the dangers of being hit in the face by my old 12.9″ iPad Pro. I decided to buy the smaller 10.5″ iPad Pro when it came out and have never looked back.
Traveling with the 10.5″ iPad Pro and an Apple Pencil is delightful. I can now give hand-written feedback on students' papers using the new Canvas Teacher App. Amazon recently unveiled a simpler way to access notes and highlights that I have made in my various books.
AirPods make listening to iPad audio at home and while traveling a whole lot more convenient. I also now have my eyes (or should I say ears?) on the Beats Studio3 Wireless Over-Ear Headphones that were just released. The noise cancelation feature seems like a great way to be consumed by a movie or music while flying 35,000 miles above the ground.
Packing Tools
I'll admit that I lack credibility when it comes to actually how to pack a bag. I have saved how-to articles like this one from the New York Times, so that I'll improve my game. I enjoy perusing posts on what different people pack, in the hopes I will find some new trick to make packing easier.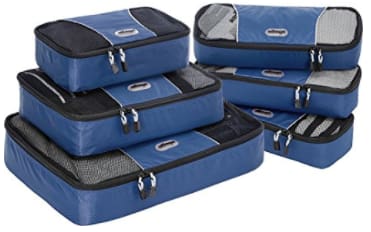 One item I am looking forward to seeing arrive on our front porch is the new eBags packing cubes I ordered.
There are plenty of articles out there on how to best make use of packing cubes and I am ready to give them a try on my upcoming trips.
At first, I thought I would buy a bunch of different colors of packing cubes. However, after doing some more reading about them, it seemed a better idea to have each family member get to have their own color of packing cubes. That way, we can tell at first glance whose cubes belong to which family member.
Your Turn
What tips do you have for making travel more enjoyable?
***
This post contains a few affiliate links. If you purchase yourself a set of packing cubes or suitcase using the links from this post, we will receive a small percentage of your purchase. Teaching in Higher Ed does not make a substantial amount of money through these efforts. We do occasionally make enough to support our monthly reading habits.