Podcast (tihe_podcast):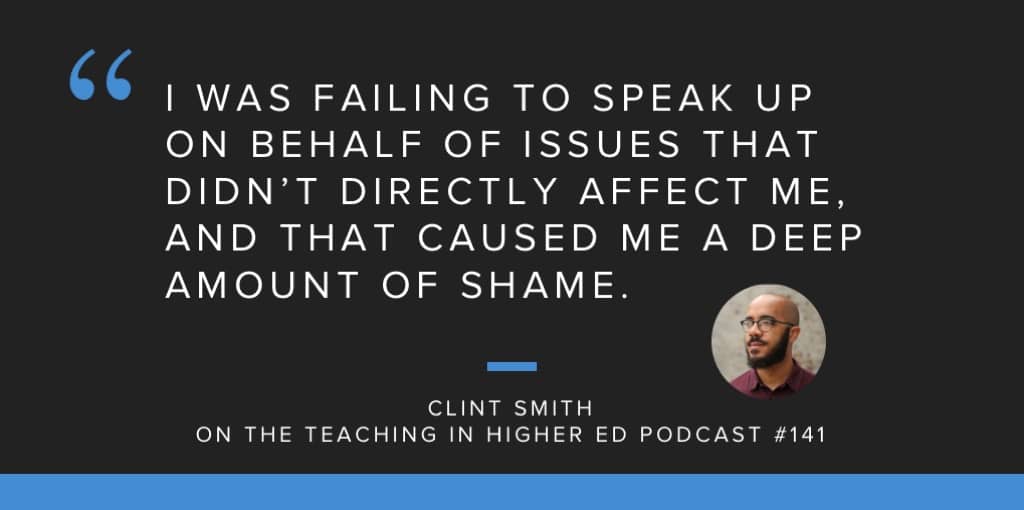 Clint Smith warns us of the danger of silence on episode 141 of the Teaching in Higher Ed podcast.
Quotes from the episode
I was failing to speak up on behalf of issues that didn't directly affect me, and that caused me a deep amount of shame.
–Clint Smith
What does it look like to be more proactive in being the sort of person that I'm asking my students to be?
–Clint Smith
What is the role and responsibility of someone given access to a platform of potential power and influence?
–Clint Smith
There's a difference between a sort of silence of complicity and a silence of listening. I think it's important that we differentiate and disentangle the two.
–Clint Smith
We need to think about the ways in which our identities shape whether or not we should be speaking or listening.
–Clint Smith
The act of empathy and the act of listening … is going to be more important now than ever.
–Clint Smith
I believe deeply in the fact that I am a partner in my students' academic journey.
–Clint Smith
Resources Mentioned
The Four Principles:
read critically
write consciously
speak clearly
tell your truth
Are You Enjoying the Show?
Rate/review the show. Please consider rating or leaving a review for the Teaching in Higher Ed podcast on whatever service you use to listen to it on (iTunes, Stitcher, etc.). It is the best way to help others discover the show.
Give feedback. As always, I welcome suggestions for future topics or guests.
Subscribe. If you have yet to subscribe to the weekly update, you can receive a single email each week with the show notes (including all the links we talk about on the episode), as well as an article on either teaching or productivity.