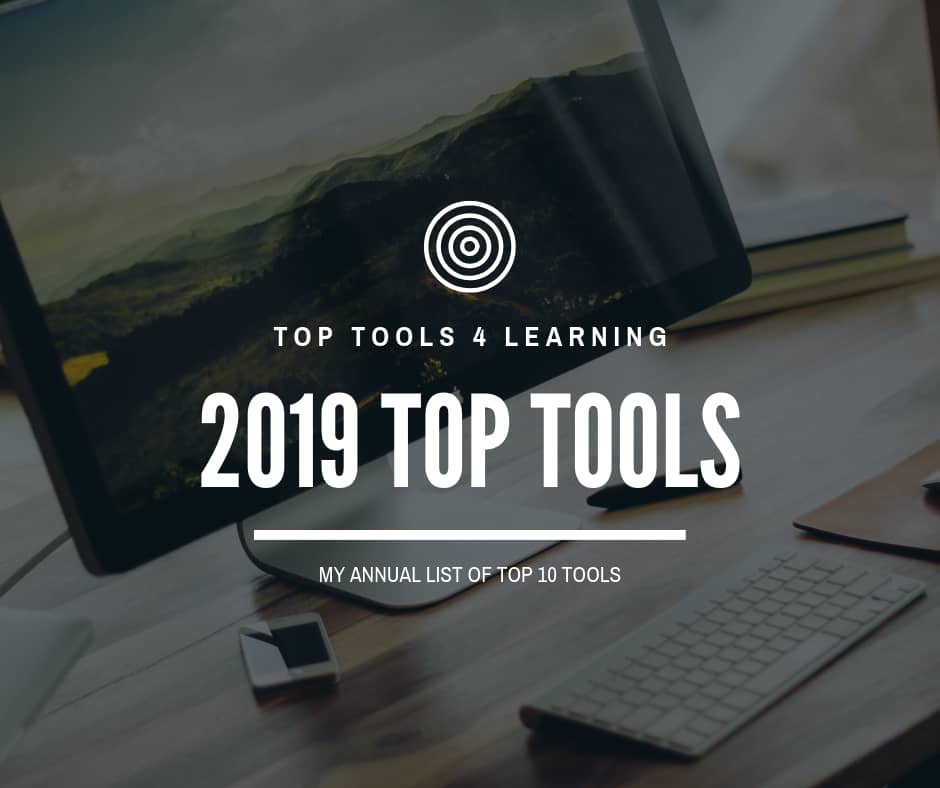 It is hard to believe that we are back around, again, to another year's vote for Jane Hart's Top Tools for Learning. I voted back in 2015, 2016, 2017, and 2018. I also created an infographic of my Modern Professional Learner's Toolkit. Consider voting in the 2019 survey, which closes Friday, September 13, 2019.
2019 Votes
Each year that I vote, I don't allow myself to look at past year's blog posts. That way, I can be sure to avoid any unintended influence on the current year's selections. First, I narrow down my top ten. Then, I determine which of the three categories they fit within: Personal and professional learning, supporting workplace learning, or within an educational context.
In no particular order, here are my 2019 Top 10 Tools:
Twitter (Personal/professional)
My personal learning network (PLN) on Twitter is vibrant and full of generous, knowledgable people who contribute to my growth daily.
Inoreader (Personal/professional)
This RSS (real simple syndication) keeps track of all of my sources of information. They come through what is called a "feed" into one place. I can browse headlines and read more, or mark items as read. I still haven't capitalized on all the cool stuff I can do with Inoreader, but is has been great so far.
Unread (Personal/professional)
Once Inoreader contains the feeds I want to read, Unread is my favorite way to actually consume content. I find it works great on the iPad to be able to navigate through headings, quickly mark things as read that aren't of interest, and bookmark those articles I want to see later on (using Pinboard, which is mentioned next). Unread also has a great dark mode, which saves my eyes while reading at night before bed.
Pinboard (Personal/professional)
When I find something I want to save for future reference, Pinboard is my tool of choice. I save bookmarks to videos, blogs, articles, and more to Pinboard. Each bookmark on Pinboard includes tags, so I can easily go back to topics of interest or resources that might be helpful to my students.
PollEverywhere (Education)
This polling system is a wonderful way to engage an audience, using their smartphones or other devices. PollEverywhere has lots of question types and ways I can present those questions to students.
Glisser (Workplace learning)
My keynote talks are supported with Glisser. I can share slides without having to worry about what device will actually display them (as in if I'll be able to use my laptop, or will need to use one being provided by the event venue). Glisser also has great tools for engagement, such as polling and social media sharing.
Quizlet (Education)
This flashcard app is highly flexible and offers all sorts of ways to do retrieval practice. Quizlet works great for individuals who want to review materials, but also in a classroom context. My favorite is their game called Quizlet Live that is the most fun I ever see my students having when reviewing for an exam.
Canvas (Education)
I have used many learning management systems (LMSs) in my day. Canvas is by far the best I have ever used. As the name suggests, it can be a blank canvas for an educator to create a dynamic environment for students to engage in. But it also has enough built-in structure to be easy to use and maintain consistency between classes. It also has an app center that lets you bring in other applications to use within Canvas (like Quizlet, mentioned above).
Acuity Scheduling (Workplace learning)
All of my office hours and podcast interview scheduling is done through Acuity Scheduing. We also take registrations for all of our faculty development workshops using this tool. Acuity Scheduling is incredibly flexible and has all kinds of options for making the work of gathering together for all kinds of purposes seamless.
Zoom (Education)
While Zoom is being listed last, it may just mean I saved the best for last! Zoom makes it incredibly easy to connect via web conference with people from all over the world. It does all the heavy lifting with working out the bandwidth issues, to give us the smoothest and clearest connection possible. Zoom also has all kinds of additional features to help participants stay engaged, like breakout rooms, chat (that carries over from session to session), and polls.
Your Turn
Now it is your turn. Consider voting in the 2019 survey, either by submitting your votes via their form, or by writing a blog post like this one.