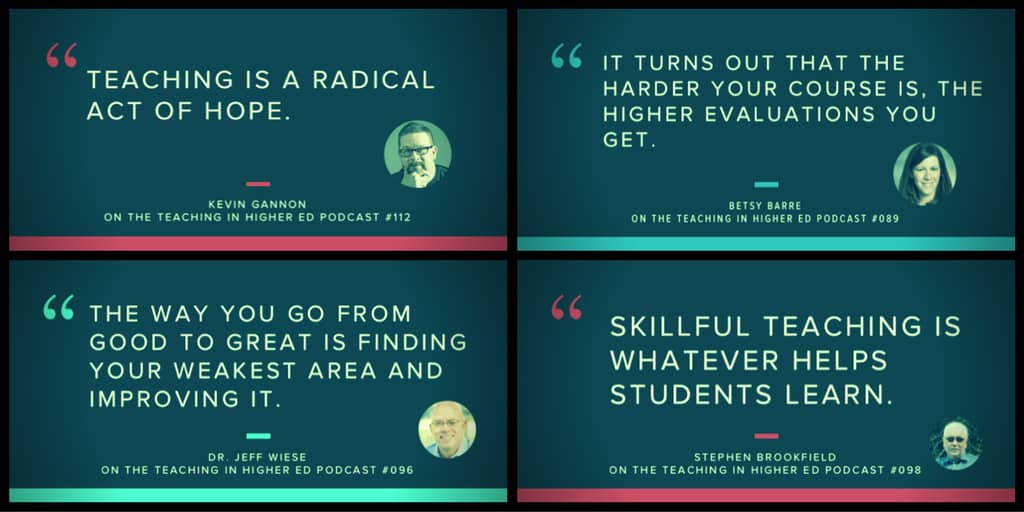 Those of us who podcast are regularly told to not get too hung up on our metrics. I started 2016 with a goal to grow the Teaching in Higher Ed community by 50% by October. Once I hit that goal, I stopped going back to review the results quite as often. However, I still know that I am sometimes overly focused on quantity of downloads, over quality of the connections we have been able to build through this community.
Still, it is nice to see more people are listening to podcast episodes each week. Well, to be clear, I don't actually know who listens. I'm only able to tell how many people download each of the shows.
List-making is quite popular this time of year. There's Oprah's Favorite Things of 2016, Wired's 2016 Wish List, Slate P!cks, and both The Sweet Home and The Wire Cutter gift guides.
I've decided to participate in the trend by making a list of the most downloaded episodes of the Teaching in Higher Ed podcast. I know that each week, new listeners continue to join the community and may have missed some good shows along the way.
Top 10 Teaching in Higher Ed Podcast Episodes
This list of the ten most downloaded episodes of the Teaching in Higher Ed podcast is not in any particular order. It's been interesting to see how the most popular episodes have fluctuated during the course of the year. I get so curious when a particular geographic region downloads a significant amount of a particular episode, but have yet to unravel any of those mysteries.
This was Jim's second visit to the podcast. Our first conversation (on episode #019) was about his book, Cheating Lessons. In the most recent episode (#092), Jim shared about the small changes we can make in our teaching that will provide the biggest leverage toward improved learning.
While I have treasured each opportunity I've had to interview Jim for the podcast, he has also contributed to the community in other ways. He regularly recommends guests (including some that you'll get to hear in early 2017). He also has written the most edifying words that anyone has ever shared about the podcast in Improving My Teaching Via Podcast in The Chronicle of Higher Education.
While listening to an episode of the Teach Better Podcast, I heard Geoff Connors (from the Yale School of Medicine) speak about his mentor, Jeff Wiese. I found Dr. Wiese's teaching portfolio and was instantly captivated. Jeff agreed to come on the show for episode #096 and ever since airing, it has remained popular.
The connection I feel when talking with Gardner is hard to describe. As he described standing with his students listening to Peter Gabriel's Solsbury Hill, I instantly traveled to a place I have never been, yet somehow felt like home. He reminded us that "great ideas of all kinds come from all kinds of people at all stages of their knowledge."
Somehow, he can mention authors who I have never heard of before, yet not leave me feeling closed off from the learning. He challenges us to regularly gauge how our students are experiencing their learning.
Our institution switched over to online evaluations this semester. A few times, I found myself wanting to stop the process and ask those leading the effort to first listen to this conversation with Betsy. She provides an overview of six surprising insights about course evaluations, all in a clear, concise, and engaging way.
Sean has been on the podcast twice now. Each time, he has challenged me to release some of my desire to quantify learning, and to recognize it for the complex process that it is… He reminds us to regularly revisit our courses, as he asserts: "Every time we step into a classroom or design a new course … we have to step back and realize we don't know anything, that each time it is new."
After we spoke, Sean sent me such a thoughtful gift. It was an autographed copy of Savvy, a wonderful book that transported me to a wonderful place and taught me about agency and teaching.
Getting to know Robert through two podcast interviews and the Teaching in Higher Ed Slack Channel has been rewarding. I have a feeling that after a few more months, Robert's most recent interview on the Getting Things Done methodology will continue to garner multitudes of downloads.
On episode #110, Robert shares about self-regulated learning and the flipped classroom. He states: "You can't say that you are interested in teaching students how to learn and then spoon-feed them everything." Robert has already agreed to come back in 2017 to share about his new book on the flipped classroom.
Like Robert, Ken Bauer has engaged through both being interviewed on the show, but also on the Slack channel. I'm grateful to be in community with him and for his generosity as a teacher of us all. He encourages us to connect with our students and consider how our fear keeps us back from innovating in our teaching.
The number one difficulty for faculty in innovating in their practice is … fear."  – Ken Bauer
Like many of the other guests who have been on the show more than once, Stephen Brookfield's episodes continue to be popular among listeners. I was excited to read Stephen's revised edition of The Skillful Teacher: On Technique, Trust, and Responsiveness in the Classroom this past year. It is now among my top recommendations for new and experienced faculty, alike.
Stephen is transparent in his writing and his interviews as he shares about his own struggles with imposter syndrome and working toward talking less. He also reminds us to continually take risks in our teaching and recognize that there's no magic formula for teaching effectiveness.
Skillful teaching is whatever helps students learn."  – Stephen Brookfield
Lest we think that our community is above the click-bait nature of numbered posts and podcasts, this episode about the top five gadgets for teaching has continued to top the charts, since it was first released. Dave and I enjoyed talking about the gadgets we get the most value from in our teaching.
There was a complaint in the comments section that the episode was too Apple-centric, given that three of the five recommendations were specific to that ecosystem. However, given the number of downloads, at least we know there is an interest in this kind of information. We'll continue to work at being considerate of all computer / smartphone / device users in future episodes, while still recognizing that Apple has a commanding market share in some of these spaces.
As I mentioned at the top of this post, this list is not in any particular order. However, this episode is turning out to regularly being among the top three episodes, depending on the time I look. This is likely since so many of us in this community need the hope that what we are working toward makes a difference.
Kevin reminds us of the vulnerability required to teach effectively:
If I want my students to take risks and not be afraid to fail, then I need to take risks and not be afraid to fail."  – Kevin Gannon
Contribute to the Upcoming 2017 Episodes
Your ideas about show topics and guests are always welcome. As I looked back at the list of the top ten, I found it somewhat concerning that 80% of the episodes that have been downloaded the most were with male guests. I did a quick count and found that 59 episodes of the podcast have been with male guests, while 53 of them have been with women. I didn't count the episodes when it was both Dave and I together. Also, I counted each episode guest's gender, meaning that people (including solo episodes with me) who have been on multiple times were tallied more than once.
My head hurts from speculating about why more downloads occurred with male guests… Perhaps it is as simple an explanation as that more than half of the guests represented on this list have been on the show multiple times?
I welcome any ideas you have about amplifying some of the more diverse voices of former guests. I started this particular post, thinking that I would link to the top ten and also list some that I think are not listened to as frequently, but are worth hearing. However, now that I'm at a much longer post than I thought this would be, I think I'll hold off on that idea for future blog posts.
Thanks to all of you for listening to the podcasts and giving potential guests even more of a reason to accept the invitations to be on the show.