Podcast (tihe_podcast):
Dr. Angela Jenks shares about her experiences encouraging accountability in her students on today's episode of the Teaching in Higher Ed podcast.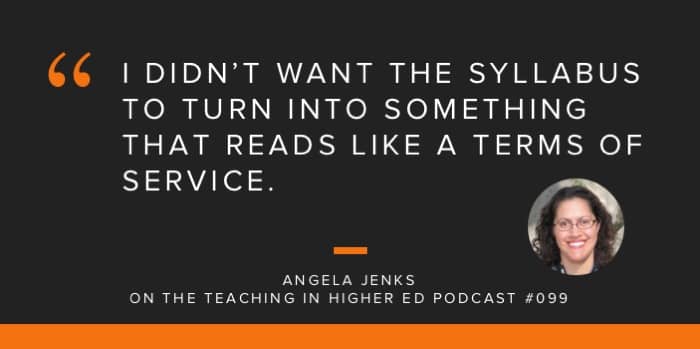 Guest: Angela Jenks
Angela is a medical anthropologist and Lecturer, PSOE (Tenure-Track Teaching Faculty) in the Department of Anthropology at the University of California, Irvine, where she also directs the M.A. in Medicine, Science, and Technology Studies program.
Quotes
It's not necessarily a kindness to not fulfill the requirements of the class.
—Angela Jenks

One of the challenges is holding standards while not turning the classroom into an adversarial situation.
—Angela Jenks

One of the things I focus on increasingly is very clear policies.
—Angela Jenks

I didn't want the syllabus to turn into something that reads like a Terms of Service.
—Angela Jenks
Mentioned in Episode
Podcast episodes on kindness:
Podcast episode on Attitude:
Recommendations
Bonni recommends:
Allowing students to "show up." Consider this quote from Anne Lamott (who was mentioned on Episode 070 with Amy Collier):
I had a session over the phone with my therapist today. I have these secret pangs of shame about being single, like I wasn't good enough to get a husband. Rita reminded me of something I'd told her once, about the five rules of the world as arrived at by this Catholic priest named Tom Weston.

The first rule, he says, is that you must not have anything wrong with you or anything different.

The second one is that if you do have something wrong with you, you must get over it as soon as possible.

The third rule is that if you can't get over it, you must pretend that you have.

The fourth rule is that if you can't even pretend that you have, you shouldn't show up. You should stay home, because it's hard for everyone else to have you around.

And the fifth rule is that if you are going to insist on showing up, you should at least have the decency to feel ashamed.

So Rita and I decided that the most subversive, revolutionary thing I could do was to show up for my life and not be ashamed.

—Anne Lamott