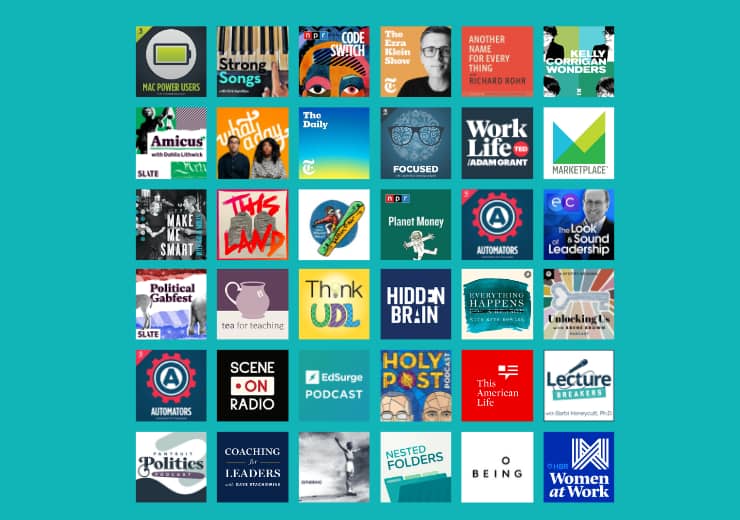 The first person to inspire me to list out annually which podcasts are taking up my "ear share" was Bryan Alexander. In January of 2021, he wrote up his most recent list of what podcasts he's listening to, while admitting he hadn't done this in a while. I have also missed keeping up with what I sometimes think of as an annual list. I wrote up favorite podcast lists in 2019, 2018, 2017, 2014, and also published an article about podcasting in the University of Austin's Flow Journal in 2017.
Here's my 2021 list of favorite podcasts, organized by category. At the end of the list, for the first time, I select ten shows that if I was only allowed that many to listen to each week, I would choose. Note to self: Why did you do that to yourself? Note to readers: Because I listen to a podcast, doesn't mean I agree with what is said in episodes… I appreciate having my mind-expanded, yet do find that I sometimes wish some of the people I listen to would do a bit more of the same, which you will read about a little toward the end of this post. 
Teaching and Higher Education
News and Politics
Technology
See more technology-oriented podcasts that I listen to under the: Podcasts I Pay For section.
Mind-expanding Shows
Business, Economics, and Leadership
Work/Productivity
Life and Faith
Podcasts I Pay For
The overwhelming majority of podcasts remain free in 2021. However, some podcasts have ad-free options, while others use some form of a subscription model. I pay for two podcasts (one directly; the other, as a part of a broader, content subscription).
Attempt at a Top 10
Narrowing down all of the wonderful podcasts, above, to just ten is incredibly hard to do. The world of podcasting is rich with compelling content. Additionally, I enjoy some shows because they are "easy" to listen to – in that I don't have to think very hard while taking them in. I'm trying to be realistic about which ones I tend to move to the top of my listening queue versus ones I "think" I should be listening to more. I suspect I would change my mind on this attempt at narrowing my favorites down to an arbitrary number of them, were I to compile such a list tomorrow.
In no particular order: