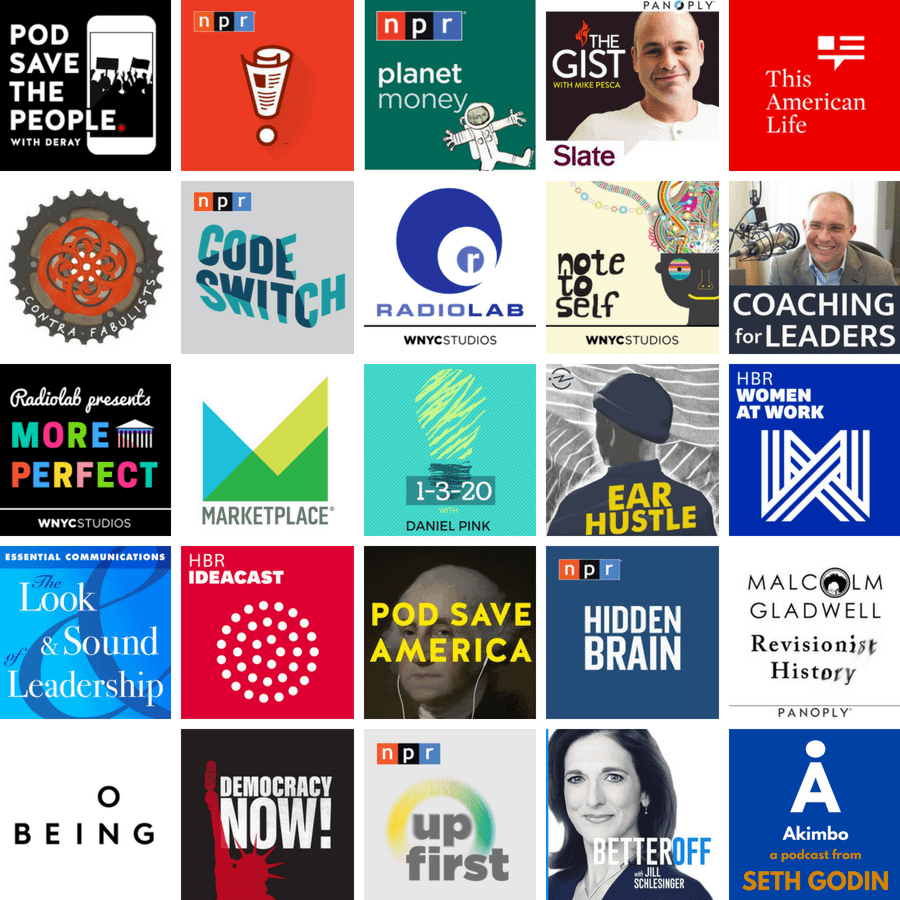 When people hear that I have a podcast, they often ask me what podcasts I like to listen to… It is a harder question to answer, since it is like asking what books one has enjoyed reading. I find myself first wanting to ask, "How much time do you have?"
This post will already take hours for me to write. I won't allow myself to consult my older Podcast Greats posts, lest I find myself changing my mind from their influence. However, you may want to have a look at them, or at some others' lists of favorite podcasts.
My Past Podcast Posts
Others' Favorite Podcast Posts
My 2018 Podcast Greats
I listen to podcasts for an average of an hour a day. It varies greatly, depending on whether I have a long drive in store that day, or a large amount of dishes to do or laundry to fold.
Higher Education
The majority of the higher education podcasts I listen to are related to teaching. I also enjoy those podcasts that can help me be more effective at pursuing my goals and just having more joy in my life, overall.
You've Got This with Dr. Katie Linder – Such an uplifting an encouraging podcast – we can do this – with Katie's help.
The Black Goat – "Three psychologists talk about doing science." Great hosts (Sanjay Srivastava, Alexa Tullett, and Simine Vazire), talking through important issues in higher education (recent episodes were on finding a job in higher ed and starting out in a new job)
EdSurge On Air – They find terrific guests to interview about what's happening in higher ed. I was even on an episode in Feb 2018.
Educate: APM Reports – Not restricted to higher ed, but high quality content about education at large
Leading Lines – "A podcast on educational technology, produced out of Vanderbilt Center for Teaching, the Vanderbilt Institute for Digital Learning, and Office of Scholarly Communications at the Vanderbilt University Library."
Teach Better – Doug and Edward (the hosts) find such gifted educators to inspire us toward better teaching. I enjoy the end of each episode, where the guest shares a failure that provided a great learning experience. 
Tea for Teaching – Discovered this one very recently and have been enjoying it. Hosted by the individuals who lead the Center for Excellence in Learning and Teaching at the State University of New York at Oswego
AcademiGig with Drs. Katie Linder and Sara Langworthy – These two are so much fun to listen to and are encouraging for those exploring "gigs" outside of the traditional academic track. "A podcast for current and aspiring academic creatives, freelancers, and entrepreneurs."
Ask the Flipped Learning Network – "A podcast for and about the Flipped Learning Network"
The Contrafabulists Podcast – with Audrey Watters and Kin Lane – "discussion of the latest technology (and politics of technology) news." They regularly challenge me to think more critically about educational technology.
The Deeper Learning Podcast – There haven't been many episodes, but check out #1 for an incredible, lesser known court case that "shattered many of the legal justifications for segregating public schools and laid the foundation for the famous Brown v. Board of Education decision."
Student Caring – A current colleague of mine (David) and a former one (Daniel) encourage us to thrive in our teaching and better serve our students.
HybridPod – "Explores conversations of critical digital pedagogy, listening for ways to empower students and champion learning." It's been a year or so since I saw a new episode, but as soon as I do see one, I know it will be wonderful.
Context
I have become obsessed with the idea of context and how most of my failings as a teacher have involved my lack of it in some way. I try to regularly digest content that helps me expand my understanding of other people's contexts. I'm thankful for friendships that help me do that, as well.
Code Switch – Conversations about race and identity
Pod Save the People – "Organizer and activist DeRay McKesson explores news, culture, social justice, and politics through deep conversations with influencers and experts, and the weekly news with fellow activists Brittany Packnett and Sam Sinyangwe, and writer Clint Smith" – this one goes to the top of my queue every time. Hear about the news from the context of black activists and influencers…
Ear Hustle – Explores a context most of us are unfamiliar with… "Ear Hustle brings you the stories of life inside prison, shared and produced by those living it."
Politics and News
I'm grateful that podcasts are available for shows that air in other media channels (such as television and radio), as I love the opportunity to listen on my own schedule. These podcasts help inform me on how to vote, how to be a better citizen, and how to engage in some forms of activism to try influence within my community and beyond. They also help me stay informed on what is happening in the business world.
Up First from NPR – Just ten minutes of news to start your day with
Planet Money from NPR – Fascinating look at economics
The Political Gabfest – Three wonderful hosts take on the week's top three political news topics and then each make a recommendation at the end of the show (a little thing they call "Cocktail Chatter").
Radiolab Presents: More Perfect – Absolutely brilliant podcast about the Supreme Court. Haven't seen an episode since January 30, 2018 and am missing them so…
Democracy Now – A podcast of the Democracy Now television show. Independent, global news.
The Economist: Babbage – Podcast on science and technology. I listen when the episode topic is of interest.
The Gist – This one has moved up in my episodes queue. Mike Pesca invites on a guest each time to explore a topic in depth. Then, he performs that he calls "The Spiel" – which is typically a humorous look at a topic related to politics, the news, or something totally unexpected.
Intelligence Squared U.S. Debates – Smart debates about current topics
APM's Marketplace with Kai Ryssdal – Great way to catch up with the news, using a lens oriented toward business and economics
Pod Save America – "A political podcast for people not yet ready to give up or go insane… Breaks down the week's news and helps people figure out what matters and how to help." Hosted by three individuals who worked for the Obama administration: Jon Favreau, Jon Lovett, and Tommy Vietor.
Wait Wait… Don't Tell Me! – Very funny game show done weekly to keep us up on the important and just plain bizarre news. I often skip the two middle segments: One where you try to figure out which story of three is the one that really happened and one with a celebrity guest where they quiz them on random stuff. I enjoy those parts, but there's only so much podcast listening that's available to me.
Under the Influence from CBC Radio with Terry O'Reilly – Fascinating stories about marketing. I regularly find episodes that relate to the classes I teach.
Social Sciences
My undergraduate degree was in social sciences and I still quite enjoy learning more in this discipline. In many ways, all the podcasts I listen to probably belong in this category.
Hidden Brain – "Shankar Vedantam uses science and storytelling to reveal the unconscious patterns that drive human behavior, and shape our choices and direct our relationships."
This American Life – It was hard to know where to classify this one – It is a little bit of everything and some of the best storytelling I've ever encountered
Very Bad Wizards with Tamler Sommers and David Pizarro – "A philosopher and psychologist ponder human morality (warning: they self admittedly have "a market inability to distinguish sacred from profane")
Revisionist History with Malcolm Gladwell – Each episode goes "back and reinterprets something from the past: an event, a person, an idea. Something overlooked. Something misunderstood." 

Leadership and Management
My doctoral degree is in organizational leadership, so it probably isn't too terribly surprising that I have carried my interest in these topics beyond my dissertation.
Coaching for Leaders with Dave Stachowiak – Spoiler alert – I'm married to the host and am on the podcast once a month for our Q&A episodes. In the remaining three weeks, Dave interviews fabulous guests that challenge us to keep developing ourselves as leaders.
The Look and Sound of Leadership with Tom Henschel – Wish it came out even more often – great advice for leaders in every episode
Women at Work from Harvard Business Review – Only lasted for four episodes – but well worth a listen – excellent podcast
Lead to Win with Michael Hyatt – Solid leadership advice with effective storytelling throughout
WorkLife with Adam Grant – Only recently started listening and am enjoying every episode
HBR IdeaCast – Weekly podcast "featuring the leading thinkers in business and management"
Productivity and Personal Effectiveness
Another unsurprising area of interest is in productivity. In fact, I even wrote a book on the topic.
The 1-3-20 Podcast with Daniel Pink – 1 book, 3 questions, and it all takes less than 20 minutes
Akimbo: A Podcast from Seth Godin – "A podcast about culture and how we can change it. About seeing what's happening and choosing to do something." I find much of his content to relate to marketing, which isn't surprising, given what he is known for…
Better Off with Jill Schlesinger – Terrific financial literacy podcast, sponsored by Betterment (a forward-thinking investment company)
The Productivity Show by Asian Efficiency – I don't listen to every episode, but the topics that are of interest to me always contain excellent advice and resources
Getting Things Done – It doesn't come out very often, but when it does, they take content from their paid membership and make it available to those of us who are waiting for the table scraps of productivity advice
Technology and Science
I worked for eleven years for a computer training company, right after graduating with my BA degree. My passion for technology started at that organization – and hasn't ended. Only in recent years have I found more interest in science and am grateful for the podcasts that help me cultivate that curiosity.
Note to Self with Manoush Zomorodi – Really enjoy their discussion of technology that is more oriented to the ethics side of things and social change
Mac Power Users – Just plain techy fun for Mac users. I was even on an episode back in 2015.
Reply All – "'A podcast about the internet' what is actually an unfailingly original exploration of modern life and how to survive it." – The Guardian
RadioLab – I wish they were my science teachers in my younger days. Who knows what would have happened?
Accidental Tech Podcast – "A tech podcast we accidentally created while trying to do a car show, featuring Marco Arment, Casey List, and John Siracusa. I don't listen to every episode, but am
Parsing Science – "The unpublished stories behind the world's most compelling science, as told by the researchers themselves." Hosted by: Doug Leigh (a former professor of mine and friend) and Ryan Watkins. "Both are professors, at Pepperdine University and George Washington University, respectively. "
Religion and Spirituality
Thank God for opportunities to reflect on my faith and to hear from people who get me asking even more questions…
On Being with Krista Tippett – On Being is one of my most treasured podcasts. Krista talks with diverse thinkers about "the big questions of meaning in 21st century lives and endeavors – spiritual inquiry, science, social healing, and the arts. What does it mean to be human? How do we want to live? And who will we be to each other?"
St. Mark Presbyterian Church – This is our family's church community. When we wind up missing a service, it is nice not to have to have missed the sermon. "Our diverse congregation is comprised of people from different religious and non-religious backgrounds who are seeking personally authentic ways to live in faith today. We connect with others who are wrestling with questions about God and religion, who care about taking action on social justice issues and the environment, and how we can be agents of change and reconciliation in a world so in need of compassion and healing."
God Complex Radio – I can't recall who first told me about God Complex Radio, but I have thoroughly enjoyed every episode I have ever heard. They talk about race, social justice, non-profits that are doing transformative work, and religion.
House for All Sinners and Saints – My favorite episodes are the ones when Rev. Nadia Bolz-Weber is preaching. She's like if Anne Lamott had a podcast and was also covered in tattoos.
Your Turn
What are some of your favorite podcasts? I'm almost afraid to ask this question, as you can no doubt tell I am behind on my listening queue 100% of the time… But, yet – I can't resist learning about even more great podcasts.
It's your turn now.