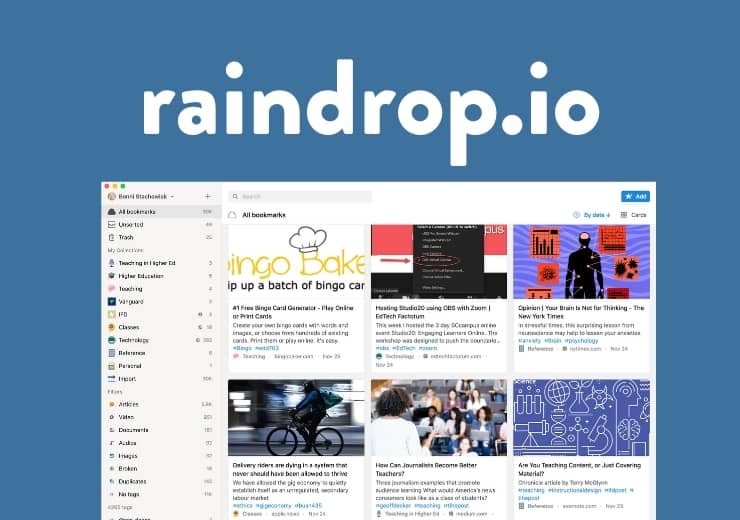 Dave and I don't change our tools very often. Instead, we try to use as few of them as possible and continually work to learn new ways to leverage these systems and applications in our learning and work. However, in recent months, we both switched our Digital bookmarking service from Pinboard.in over to Raindrop.io.
Pinboard.in served us well for years. I had over 30,000 bookmarks stored since I joined in 2014. I moved over from the Del.icio.us bookmarking service, when it's long-term future looked questionable. Pinboard.in is a simple way of collecting and categorizing bookmarks in one place. It had recently become rather slow when running in the browser, as well as not always reliably saving my bookmarks when I was on a mobile device and using a third-party app.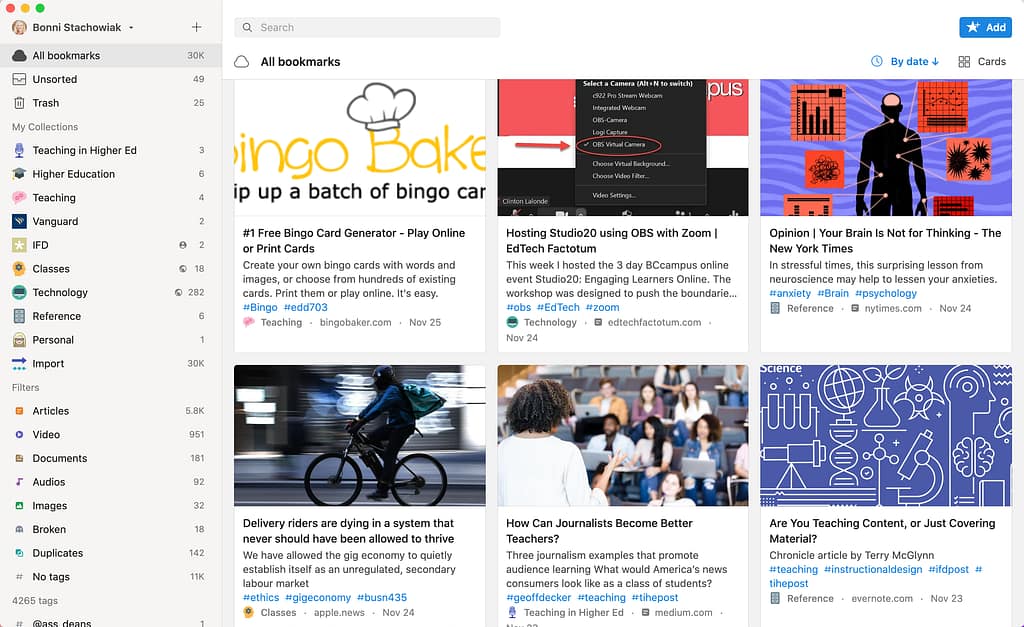 When I first looked at Raindrop.io, I was blown away by its gorgeous user interface. Instead of categorizing purely by applying tags to bookmarks (like Pinboard.in does), Raindrop.io also makes use of Collections, which are like folders. When I initially saw the organization by Collection, I thought that this would be a limitation for me, given that I save items that would apply across various categories. However, I soon discovered that searching can be done across all manner of filters, so I wasn't going to lose the functionality I had grown so accustomed to when using Pinboard.in.
Getting Started
The first step for me in getting started with Raindrop.io was to experiment with it for a bit. I installed the Mac app and iOS app. They also have a Windows app and an app on Google Play. I created an account and signed in on the apps.
I set up a couple of Collections to see how that worked. I like how you can use their extensive collection of icons to visually distinguish your categories from one another. Even better, I appreciate how I can upload custom icons. Our university has some design elements that I instantly associate with that entity, which I used for my work-related Collections. I later added my Bitmoji for personal bookmarks.

The next step in getting started was to add the Raindrop.io extension to my browser, so I could easily add bookmarks when browsing the web. They have support for Chrome, Firefox, Safari, Opera, Edge, and a Raindrop.io Bookmarklet that may be used for unsupported browsers.
Once I signed into the Raindrop.io extension, I was ready to start adding bookmarks. I instantly noticed how much faster Raindrop.io was, as well as offering more features to access within the single browser extension. I could select the Collection to place the bookmark within, as well as add any associated tags. It was very intuitive to use from the very beginning.
The last part of getting started was to connect Raindrop.io within my preferred RSS Reader – Unread. That way, while I was reading articles from all my various RSS feeds on Unread, I could quickly save items within a category and apply tags. I do this by long-pressing on the title of an article and accessing Raindrop.io via the share sheet. I could do it even faster by setting up the double-tap to automatically save to Raindrop.io, but it doesn't appear to allow me to enter a tag as I'm saving it. I have found that if I don't add the tags at the same time as I'm saving an item, I can get a serious backlog of bookmarks when I finally sit down to tag everything.
Collections
Another nice feature of Raindrop.io's Collections is the ability to collaborate with others. I've set up a Collection for our Institute for Faculty Development. Now, whenever any of us comes across bookmarks related to our work, we can save them in one place and have others automatically have access to them, as well.
We are only getting started with this practice, so I don't know yet how tags are going to work. I would assume that whatever tags my colleagues add here will then get added into mine. If we want to really be able to future-proof our bookmarking efforts, it is going to make sense to come up with some naming conventions for our tags.
If you don't want to have someone to be able to add to your bookmarks, but want them to be able to view an entire Collection, there's an option for that, as well. You can either invite specific individuals to view a Collection, or can create a shareable link.
I see on the Raindrop.io planned improvements that there are (as of 11/29/20) 493 upvotes to "Pin one bookmark into multiple collections," which to me would be a great enhancement to Raindrop.io. I was the 493rd upvote. The developer is very responsive to user feedback and continually improves the service, from everything I can tell so far.
Tags
The power in really being able to organize information comes from tags, since they can carry across multiple categories and contexts. A single bookmark may belong in the following collections: Reference, technology, classes, teaching, and higher education. I wind up picking the most logical Collection and add in the tags that will help me find the item in the future.
This morning, I listened to an episode of The Productivity Show: 5 GTD Tips to Become a Power User and Get Things Done Consistently (TPS322).
Here are the tags I applied to it, along with the rationale for each one.
#audio – When adding media to my bookmarks, I like to indicate the type of item I'm saving, whether it is audio content or video.
#AsianEfficiency – They are the creators of this podcast and also have a great blog. I like to be able to search by the content creator, whether it be a person, or an organization.
#GTD – Getting Things Done, a productivity system articulated by David Allen in the book by the same name
#mgmt470 – I teach a management elective class called: Personal Leadership and Productivity. When I find items related to any class, I like to add a tag with the class name to help me be able to surface new content to add to the course over time.
Dave thinks I may have gotten carried away with tags across my years of digital bookmarking. He may be onto something. As of today, I have 4,265 tags. In listening to another podcast episode this morning, one of the co-hosts said, "Tags don't cost anything," which helped me feel a bit more vindicated.
If I were starting over, again, though, I would be more purposeful in deciding on whether to use singular vs plural for tag naming conventions. In some cases, I have done that.
For example:
#podcasts – are the actual shows I have saved
#podcasting – is the creation of podcasts
#podcast – is a hashtag I use on Twitter when sharing quotes from the Teaching in Higher Ed #podcast. I have it set up to automatically bookmark tweets that I like or retweet, so adding this to Raindrop.io happens automatically.
If you have gone down the path of sometimes tagging an item with a tag expressed in the singular, while other times adding a tag as a plural, you can combine the two tags together. I see on the Raindrop.io website that it is possible to merge tags, but I haven't figured that piece out just yet.
Perfectionism and ongoing personal knowledge management don't go together very well. I can always search a couple of ways to find what I'm looking for, until such a non-existent time when I clean everything up perfectly.
Next Steps
If you don't already use a digital bookmarking system, I highly suggest you check out Raindrop.io. As stated on the Raindrop.io home page:
"Raindrop.io is the best place to keep all your favorite books, songs, articles or whatever else you come across while browsing."
And if you would like to learn more about personal knowledge management, there's an entire section of my book devoted to it. Check out The Productive Online and Offline Professor on the Stylus Publishing website. Part Three explores finding, curating, and sharing knowledge and there's a chapter dedicated to Three Steps to Social Bookmarking. 
Also: Productivity Tools List on the Teaching in Higher Ed Website