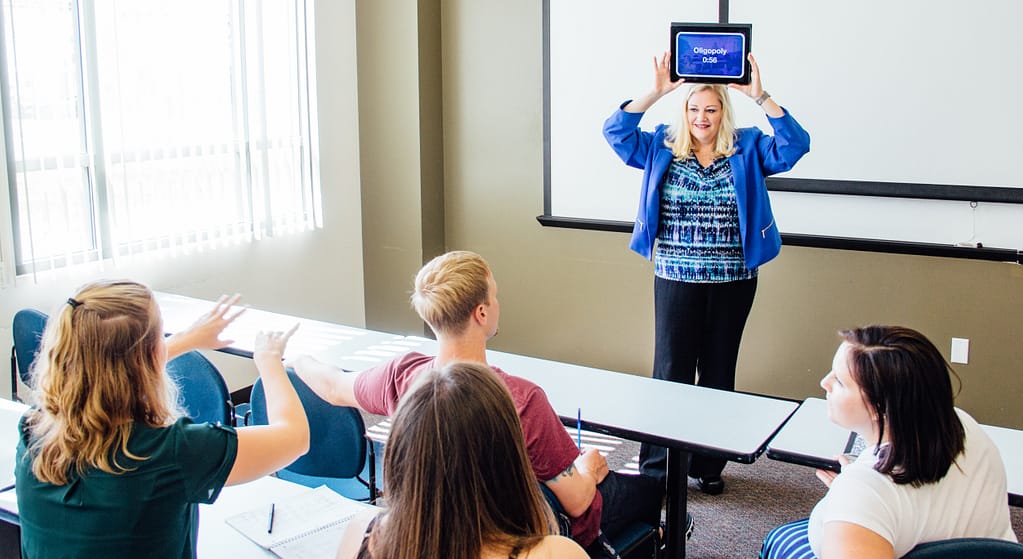 There are some ways in which predictability is important in our teaching.
That we consistently treat our students with respect and kindness, that we honor our commitments to others and ourselves, and that we keep high expectations while continually encouraging learners toward excellence…
However, some of our patterns translate into monotony for our students. They know what's coming next and it often doesn't involve them doing anything other than paying "civil attention."
Here are five ways to change it up in your teaching, to draw students back in and to engage them more in the process of learning.
Make them laugh
This feat is easier said than done. It certainly doesn't come naturally to me and can be a challenge.
I use my personal knowledge management system to keep track of items that are humorous that are related to my various courses. I've got a tag for each of my classes that I apply (e.g. BUSN114, MRKT369, etc.), as well as a tag for humor.
Show a short video clip
I also tag videos in my PKM system, so that I can quickly find a video to break up the patterns I may have going in a particular class session.
The best length for in-class videos tends to be less than five minutes, but there are certainly exceptions, like with a good TED talk, or with a wonderful speaker, like Seth Godin.
Have them reflect on their learning
Todd Zakrajsek has shared on the podcast, before, about the importance of metacognition. This doesn't have to be as complex as what the word seems to warrant.
James Lang suggests wrapping up class a few minutes early and having students write down the answers to two questions:
What was the most important thing you learned today?
What question still remains in your mind?
It doesn't take a lot of time to get students reflecting on their learning, but it certainly is powerful.
Use the power of in-class retrieval practice
When Robert Bjork was on the podcast, he stated that, "Using our memories shapes our memory." Retrieval practice is a wonderful way of helping our students focus more on getting information out of their heads, while still being in an environment where additional coaching is available.
I use PollEverywhere often for retrieval practice (in-class, anonymous quizzing). However, I also even change up the method by which I do retrieval practice, so even that doesn't become monotonous. Buying a custom deck of Ellen's Head's Up game is a great way to review key terms in a class. That's the game I'm playing with students in the picture at the top of this post.
Change up the environment
Another illustration from Robert Bjork, when he was a guest on the podcast, had to do with context. When we study, or otherwise engage in learning, in different environments, our retention increases.
Consider holding class outside, or in a different room than normal on your campus. I sometimes have students get up and walk around the room, giving input using sticky notes or by writing on flip charts. I even occasionally have them walk around the building we are meeting in a couple of times, with a partner, quizzing them on some material we just talked about.
Your turn
What do you do to keep from being too predictable in your teaching?