I met with a student yesterday who was completely overwhelmed. She used to be a faithful user of a paper planner, but had not used it this semester and was feeling the consequences.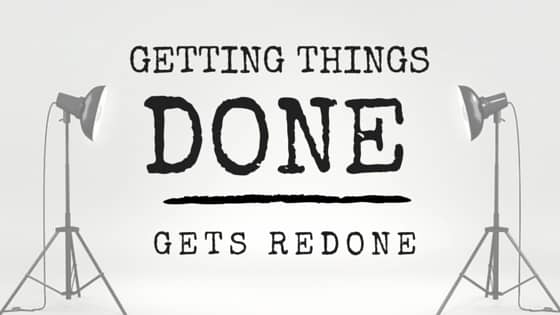 The student had come to the conclusion that while she might often be able to carry everything that needed doing around in her head, that any "change in plans" threatened to bring her whole system down. An illness earlier in the semester had thrown her off in most of her classes and she was having trouble getting away from constant chaos.
Of course, it isn't just our students who can get overwhelmed. One of the truest stereotypes that so many of us academics have earned is that of the absent minded professor. The practices recommended by experts in learning design can seem impossible to pursue, since just keeping status quo is hard enough.
I've just started reading David Allen's revised Getting Things Done: The Art of Stress-free Productivity. He shares in the first chapter about what has changed since he first wrote the book and what is still the same.
If you're not familiar with the Getting Things Done system, this is a good overview. Additionally, Dave (my husband) recently interviewed David Allen for his Coaching for Leaders podcast.
As I think about the key lessons I gained from the first time I read it all those years ago (not to mention the times I re-read portions of it), the following principles stand out:
Get it out of your head. Our brains are not at their best when we try to carry our to do lists in our minds.By having some proactive and reactive means of capturing all that is coming at us, or otherwise occupying our thoughts, we can more easily tap into our creative capabilities and experience less stress.
Separate the processing from the doing. When we are going through our various inboxes to sort through our tasks, we need to avoid the temptation to try to actually start tackling them.If a task requires less than two minutes to accomplish, it is ok to go ahead and get it done. However, those actions that require more time will be better served if we consider them in the context of everything that needs doing.
Get better at saying no by allowing time for reflection. If we are simply "doing" machines, we lose the opportunity to cultivate those activities that provide the greatest meaning for us in our lives. If our system for managing our time and tasks includes reflective thinking about our dreams, goals, and priorities, we gain the courage and confidence to say no to things that aren't aligned with our sense of purpose.
Only use due dates for actions that truly have due dates. I used to carry a Franklin Planner with me everywhere. I relied on it heavily to keep me organized. One faulty part of my approach, though, had to do with deadlines.Theoretically, if I didn't get enough done in one day, I should have copied the tasks to the next day's page. That quickly became tedious and I would have to do lists that I was consulting from three weeks ago, since I hadn't taken the time to copy them over to the current page.

It can be that same way with electronic task list item due dates. We tell ourselves that it is due by this Friday, because there's a sense of urgency around it. however, if we don't get to it by Friday, we either reset the due date, or have a growing snowball of overdue tasks.Our productivity approaches should be ones that we trust. If we regularly look at outstanding tasks, we can prioritize as we go which ones are most important to us. That helps us avoid putting due dates on things that we no longer trust, since we know that so many of them aren't actually due on the day we say that they are.

Invest time each week considering what's most important in the coming week. I perform a weekly review at least 75% of the time. The weeks when I'm disciplined enough to go through this activity, there's a noticeable difference in my stress levels and my productivity. I've decided, in advance, what is most important to focus on during the week and made any contingency plans for areas where there may be trouble ahead.
One of the chapters that David Allen added to the revised version of Getting Thing Done is a section on personal mastery. We don't ever "finish" GTD, but rather are continually developing and adapting.
Peter Senge writes of personal mastery:
People with a high level of personal mastery are able to consistently realize the results that matter most deeply to them–in effect, they approach their life as an artist would approach a work of art. The do that by becoming committed to their own lifelong learning.
We don't someday wake up and completely follow a system like GTD every day of our lives from then on out. Instead, we continually strive to incorporate habits into our lives that will maximize our effectiveness and cushion the blows when times get tough.
The quest is a worthwhile one to me and one I am continually seeking to cultivate even further than I have already…
[reminder]Do any of you have an interest in doing an informal book club on the revised edition of Getting Things Done: The Art of Stress-free Productivity? If so, put a comment on this post. If there are at least five of us (including me) who want to commit to reading it within the month of April and having some informal, virtual dialog on it, I'll put something together to connect us.[/reminder]