As I have shared previously, I don't jump on every new tool when it first gets introduced.
Part of the reason is just a question of workload. There simply isn't time. I also don't want to confuse students by overdoing it with technology.
Finally, I want to be sure I allow enough time to properly reflect and strategize on how to best utilize a given tool. That's one of the reasons I find my someday/maybe list for technology tools so beneficial.
Still, I keep my PKM system flowing with emerging tools to consider integrating into my teaching when/if the timing is right.
The possibilities are endless, when you find the right tool for the right situation.
Consider that without collaborative technology, projects like this musical piece put on by musicians from all over the world wouldn't be imaginable, let alone feasible.
Snapchat
If you haven't heard of Snapchat before, here's a good introduction to start with… NPR describes how teachers are using Snapchat, while Jilll Walker Rettberg gives this fabulous look at how scholars can use Snapchat.
I'm tempted to dip my toe in the Snapchat world, a bit less from an educational perspective and more because so many marketers are using it to connect with consumers. These ten Snapchat brands are leveraging the platform in creative ways and I want to understand the ways to engage made possible through Snapchat.
Not as much has been written about Snapchat in higher ed, though articles like this complete guide to Snapchat for parents and teachers are applicable enough to our context to be of benefit.
The Wall Street Journal published the best article I've seen on using Snapchat in a personal/individual context.
Slack
I've written previously about using Slack in my teaching and have shared about it on the podcast. Zach Whalen also provided his notes on teaching with Slack.
A friend recently suggested that I should have a Slack channel for Teaching in Higher Ed and give people a way to engage more as a community together.
This would only make sense to me if there were enough members of the Teaching in Higher Ed community who were already up on Slack and looking for a way to chat more about teaching effectiveness and productivity.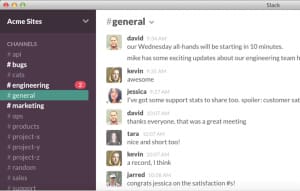 I wouldn't want to try to convince someone to get up and running on Slack just for this one purpose, but rather if a bunch of you were already using Slack for other things and would enjoy this additional means for communication on that platform.
If you would be interested in joining a Teaching in Higher Ed Slack channel, let me know either in the comments, below, or by getting in touch through a private message.
[reminder]What emerging tools are you experimenting with, or considering giving a try in the next few months?[reminder]