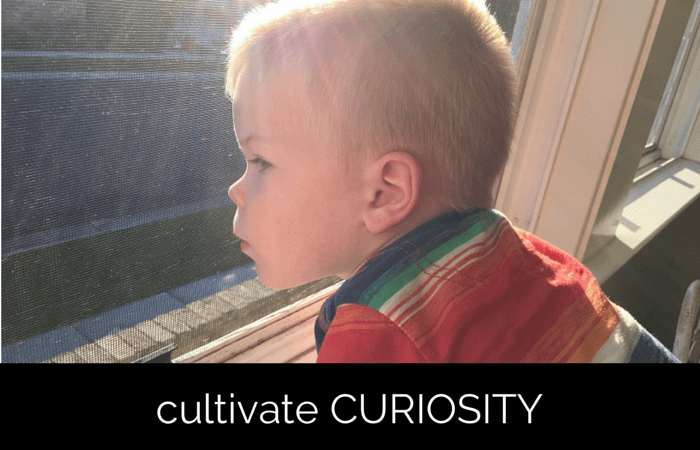 Our son has a new habit. He points at something he hasn't seen before and says, "Whaaaaaaaassssshhaaaatttt?"
For many parents, I know this stage is frustrating. I also recognize that there may well come a time when I'm not amused by it, either.
However, I'm delighted by it now. It's interesting to see what captures his attention and what things are new to him. The whole experience also makes me wish I could bottle his curiosity and administer it, when needed, in the higher ed classroom.
Dr. Mark Carnes joined me for the most recent episode of the Teaching in Higher Ed podcast (episode 21). He described how the role playing immersion game, Reacting to the Past, is transforming the way students engage in the college classroom. In Minds on Fire, his book on the same subject, he talks about his early experiences having students play one of the games.
He describes:
Never had students been so engaged and in such a weird way.

Someone piped up, 'does anyone realize that class was supposed to end seven minutes ago?'

…We had lost track of ourselves.
Carnes seems to be describing students who are in what Mihaly Csikszentmihalyi calls being in a state of flow. Their curiosity is heightened and they're thinking critically about the class content.
Carnes has found a way to bottle the adventurous nature of a toddler and sparked the curiosity of his college students.
Not all of us will be able to use a Reacting to the Past curriculum for a particular class. However, there are steps we can take to cultivate curiosity in our classes.
Direct students solve a problem
Probably the most influential person on my teaching throughout my career has been Dr. M. David Merrill, Professor Emeritus from Utah State University.
I used to work for a computer training company. We hired Dr. Merrill to do some consulting for us. I remember how vividly he altered my view of teaching.
At the time, I thought I was teaching computer application skills. What I realized was that I was getting people to follow a series of steps that I prescribed and only assessing them on their ability to do what I instructed.
Throughout Dr. Merrill's career, he has emphasized the importance of having learners engaged in solving problems. I'm only skimming the surface of Merrill's principles of instruction here.
Our classes in higher education will promote greater learning opportunities if we direct students to solve a problem and not simply get them to regurgitate facts.
Instruct students to give advice to people (or characters) involved in the situation
I've previously recommended using the podcast Planet Money in teaching about business. One of the most interactive sessions I typically see in my introduction to business students is when I ask them to recommend a solution to the currency problem experienced in Brazil's history.
I play the episode up until the point when they have described the challenges with an unstable currency and how difficult that point in Brazil's history was for them. Then, I press the pause button and ask them how they would recommend that they solve the currency problem.
Resist the temptation to be a know it all
If students perceive that we already know everything there is to know on a topic, we can inadvertently diminish their curiosity about a topic.
The other day, I brought in an example from the NBA for my introduction to business class. There's a running joke about my lack of sports knowledge in just about all of my classes. One student had lamented that I use Apple in my examples too often and he was hoping for more sports.
After receiving his feedback, I changed an entire section of my module introducing various promotion strategies that companies use to be centered around the NBA's promotional efforts.
I shared about a website that the NBA had set up in 2010 to use direct marketing to appeal to Hispanics. Candidly, I admitted that I wasn't sure what had become of the website, or what more current efforts they were putting in to attracting Hispanic fans. It was the best example I had found when I was putting it together late the prior evening.
My lack of knowledge opened the door for sports fans in the class to share their knowledge. One student talked about how players will wear special jerseys to culminate their Latin nights celebrations. Other students piped in with their examples and a few asked questions to extend the scenario a bit further.
If I hadn't resisted the temptation try to know it all, the students have missed the opportunity to apply their newfound knowledge to a topic they are passionate about.
[reminder] How do you cultivate curiosity with your students?[/reminder]