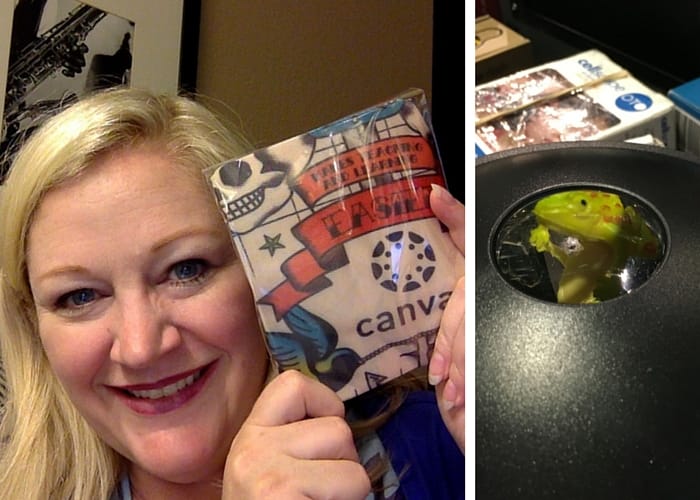 This week, I've been experiencing the OLC Innovate 2016 conference in New Orleans.
Back in January, I was contacted by someone from MERLOT, to let me know that the Teaching in Higher Ed podcast had been included in their collection and had then won a MERLOT Classics award. They invited me to come have the award conferred at the OLC Innovate conference and to give a presentation.
That's how I got here.
Discoveries
Here are just a few things I discovered this week:
GooseChase is a great way to build mobile phone scavenger hunt for your classes. The service is free to educators using it in our classrooms. The presenter of this session built a game, using our input, in less than five minutes.
Dr. Katie Linder gave me a pair of Research in Action earbuds, having no idea that one of my trusty pairs of earbuds had broken right before I took off for the airport.
The new Research in Action podcast is fabulous and is a great complement to Teaching in Higher Ed. It focuses on topics that aren't addressed on Teaching in Higher Ed, while still making their content accessible to diverse listeners.
I had to privilege to talk with Dr. Carl Moore after my session. We covered all the bases: race, religion, politics, teaching, social justice, productivity, iPhone apps, and music. I'm not kidding. As you might imagine, I invited him to come on the podcast and look forward to having him share with us about proactive inclusion.
Carl shared with me about a professor who has taught him so much by always having two rules for his classes: That you be yourself and that you are present. 
Universities are experimenting with hyflex models of course delivery. Dr. Brian Beatty put together a great panel of  presenters, discussing the various ways they are giving their students flexibility, while ensuring that they still maintain the following four hyflex principles: Alternatives, equivalence, reuse, and accessibility.
Travis Thurston shared about the creative ways they are developing learning paths within the Canvas LMS. He's doing what seems to be a combination of choose your own adventure learning, as well as choose your own adventure assessment.
The presenters from UCSF shared about how to create screen lessons for our students and provided a link to their online resources. They gave four ideas for creating more engaging videos:
Provide a virtual demo in a screencast format
Ask questions (can even do video-based questions in a quiz)
Annotate with ink using a stylus
Use props to illustrate your point
They also suggested keeping videos less than 10 minutes, in most cases even as short as 3-5 minutes. They make use of Screenflow and Camtasia in creating their videos.
Finally, I started coveting the Swivl robot, once again.
You hold a small remote in your hand while you're presenting and the robot "follows" you to keep your image on camera. Also, you indicate using the remote whether you want to be recording your image, or whatever you're projecting on to the screen.
Given that our university is switching over to Canvas this summer, something tells me it isn't the right time to make a purchase of an entirely new type of device… But, that's probably just because I'm tired and I'll be back to wanting one, again, tomorrow.
I didn't do any sketchnotes, like I usually do at conferences. The tip of my Apple Pencil had fallen off and I didn't notice until I took it out to start my first note. Fortunately, I located it in the bottom of the tote bag they gave us and order was restored in my iUniverse.
You can view the slides and resources from my session online.