Podcast (tihe_podcast):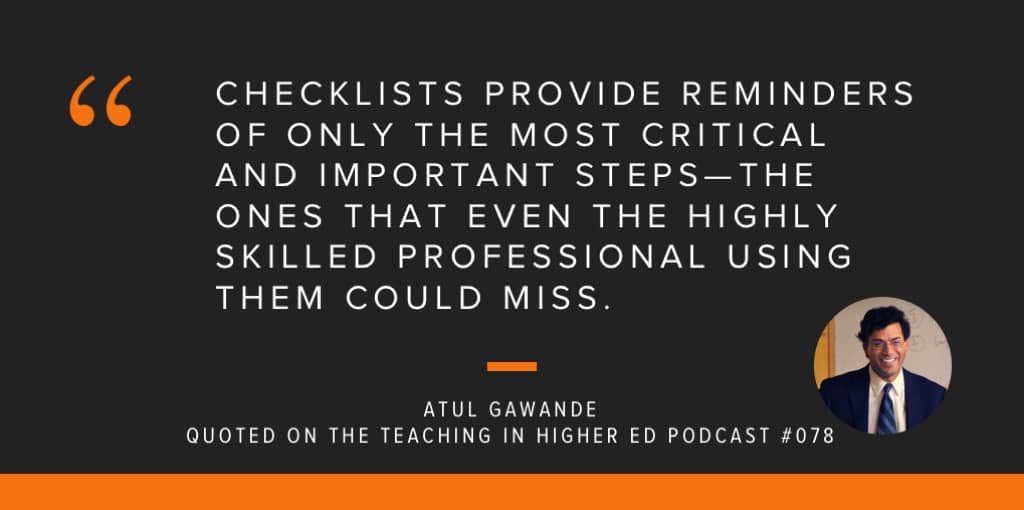 Today on episode #078 of Teaching in Higher Ed: The power of checklists
Good checklists, on the other hand are precise. They are efficient, to the point, and easy to use even in the most difficult situations. They do not try to spell out everything–a checklist cannot fly a plane. Instead, they provide reminders of only the most critical and important steps–the ones that even the highly skilled professional using them could miss. Good checklists are, above all, practical.
―Atul Gawande

We don't like checklists. They can be painstaking. They're not much fun. But I don't think the issue here is mere laziness. There's something deeper, more visceral going on when people walk away not only from saving lives but from making money. It somehow feels beneath us to use a checklist, an embarrassment. It runs counter to deeply held beliefs about how the truly great among us—those we aspire to be—handle situations of high stakes and complexity. The truly great are daring. They improvise. They do not have protocols and checklists. Maybe our idea of heroism needs updating.
―Atul Gawande
Definitions
A to-do list is what to do, a checklist is how to do it:
Article on lessdoing.com
A checklist is a documented process for something you'll do daily; a to-do list is something you assembled yourself that you need to do at a certain point of your day:
Article on alphaefficiency.com
Philip Crawford, software entrepreneur on Quora, gives his definition:
Question on Quora
Natalie Houston on checklists
A checklist ensures communication and confirmation among members of a team and catches errors.
—Natalie Houston
There are Two kinds of checklists:
Read-do: read each step and perform the step, checking off as you go (like following a recipe)
Do-confirm: perform steps of the task from memory until you reach a defined pause point when you confirm that things have happened.
Advice for making checklists:
Keep it simple
Make it usable – need to be able to check things off
Try it out and edit as necessary
Read her article about checklists HERE
Checklist on Checklists
Atul Gawande lists things to consider when making a checklist:
You you have clear, concise objectives
Have you considered adding items that will improve communication among team members
When crafting the list, is the font sans serif?
Have you trialled the list with frontline users? And have you modified the checklist in response to repeated trials?
Class Checklist
Recommendations: