Podcast (tihe_podcast):
On this week's episode, Todd Zakrajsek and I discuss our key take-aways from the 2016 Lilly Conference.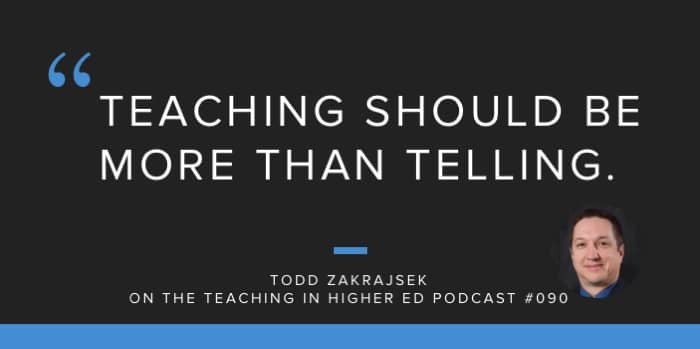 Guest: Todd Zakrajsek
Twitter: @ToddZakrajsek

Dr. Todd Zakrajsek, Ph.D., is the former Executive Director of the Academy of Educators in the School of Medicine and an Associate Professor in the Department of Family Medicine at UNC-Chapel Hill.  Dr. Zakrajsek is the immediate past Executive Director of the Center for Faculty Excellence at University of North Carolina at Chapel Hill and prior to his work at UNC, he was the Inaugural Director of the Faculty Center for Innovative Teaching at Central Michigan University and the founding Director of the Center for Teaching and Learning at Southern Oregon University, where he also taught in the psychology department as a tenured associate professor.  Dr. Zakrajsek also sits on two educational related boards and several editorial boards for journals in the area of teaching and learning, is an international speaker requested regularly for keynote presentations and campus workshops, and has published widely on the topic of effective teaching and student learning.
Todd was previously featured on Episode 47: Developing metacognition skills in our students
See list of Bonni's resources from the Lilly Conference: www.teachigninhighered.com/lillycon

Quotes
Teaching should be more than telling.
–Todd Zakrajsek

If a worker knows why they're doing something, they're much better at doing it than if it's a mystery to them. It's the same thing in teaching.
–Todd Zakrajsek

Any time we start looking at these concepts and saying, "Should we do this, or that? Do the students fall into this category or the other category?" we lose the richness of all the individuals in between.
–Todd Zakrajsek

Lecturing alone simply does not return the same kind of advances you get when you add in engaged, active kinds of learning.
–Todd Zakrajsek
Resources
Recommendations
Bonni
Presentation polling app: Sli.do*
Todd