When it comes to new apps, Dave is often a bit more willing to experiment than I am.
He's gone back and forth between the two read-it-later services: Pocket and Instapaper, more times than I can count. On the other hand, I made the switch to Pocket upon his suggestion and am not willing to re-learn a new system, just to capitalize on a couple extra features that Instapaper now offers.
That's why I think I was so suspicious about making the switch to Pinboard.in.
Dave had made the move and kept recommending it to me. At first glance, I wasn't sure how it would be better than the Delicious bookmarking system that I had been using.
However, I finally decided to take the plunge when I saw that I could have Pinboard.in bookmark/pin everything both inside their system, but also on my Delicious account. There just wasn't that much to lose.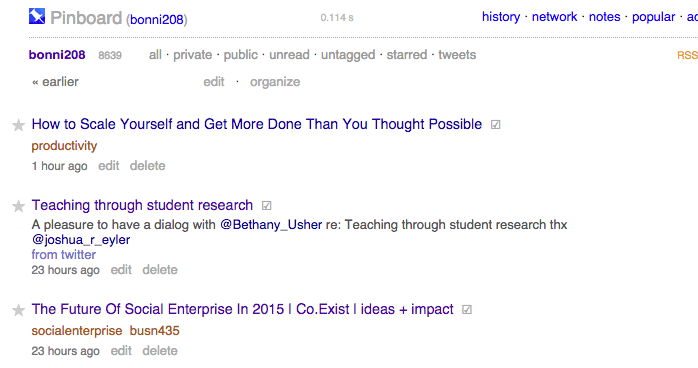 What is Pinboard?
From their FAQs:
Pinboard is a personal archive for links you find online. You save bookmarks to the site and can find and search them later from any computer. The site can automatically import your links and tweets from a number of outside services.

Pinboard also offers an archive feature that will save a local copy of everything you bookmark in case the original page goes offline, and let you search all your bookmarks by their full text content.
How do I use Pinboard?
Pinboard is so easy to use that a person might suspect that it only has one application: to save stuff. However, I wind up using it in a number of ways, including:
As a source for inspiration and ideas for blog posts and social media interactions
Once a week, I go onto my main Pinboard page that has all my pins in one long list down the middle. I take a look at the pins I've added in the last week and determine whether they might fit into my main blog post for the week, or if they might be good individual Tweets or Facebook links.
When people ask me for resources on a given topic
The power of Pinboard comes in when you set up a system of categories, or tags with your bookmarks. As soon as you save a bookmark, you have the option to add one or more tags at that time.
Later on, if someone asks me for my advice or resources regarding educational technology, I have an easy link to send them that has all the resources I've saved on a given topic.
https://pinboard.in/u:bonni208/t:EdTech/
As a way to capture resources from Twitter with one click or tap
I have Pinboard set up to automatically add any Tweets that I favorite to my pins.
While that sounds like it would get crazy to try to keep all those favorites organized, it really isn't all that necessary. I have it set to use any Twitter hashtags as tags within Pinboard. In most cases, there aren't tags, though, and they just wind up going in a category called untagged.
If I were inclined, I could manually go in there and tag them all at a later time. However, I haven't found that necessary, given the robust search features in Pinboard and the nature of the kinds of things I favorite on Twitter.
Recommended steps
If you are going to take advantage of Pinboard, be sure you have:
Set up your account
Added the button/extension to your browser's toolbar, so you can easily add pins while you're on your computer
Add the Pinboard extension/share button to your iOS device, so you can easily add pins while you'er on your iPhone/iPad
[reminder]Do you use a bookmarking/archiving tool? If so, which one is it and why is it your preferred tool?[/reminder]