Dave and I are in the process of evaluating preschools for our son, Luke. It has been hard for me to separate my feelings about the person in the role of salesperson from the realities about what it would be like for Luke to actually attend school at any of the places. I keep wanting to give the people giving us tours this book, which transformed my thinking about selling. The whole experience has reminded me of the enormous role that first impressions can play in how we perceive a person or environment.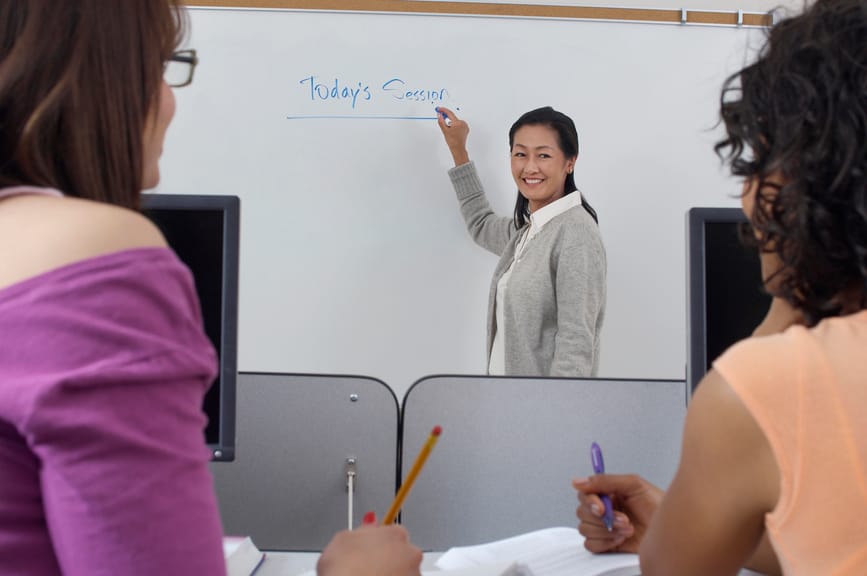 Shaping First Impressions in the College Classroom
First impressions in the higher ed classroom are crucial. There is even some indication that students' perceptions on the first day will be almost identical to how they will eventually assess the professor on the final course evaluation. Here are a few ideas for starting the semester strong:
Arrive early and set the tone
This recommendation is in every single first day prep article I've ever read. Yet, I'm still including it here, because it is so important. Think about what your students will see, hear, feel, and experience as they enter the environment they will be learning in for the semester. I tend to open up the blinds and let in as much natural light as possible.
Music is also an important start to every class session for me. If you don't believe that music can completely change the mood, this little girl might change your mind:
[The video may not play if you're viewing this on email, but you can view it by opening this post on Teaching in Higher Ed]
Start with a story, statistic, anecdote, or other means of inspiring students
I just received my first email from a student who is going to miss the entire first week of classes, since he will be out of the country. At least he didn't ask the dreaded question: "Am I going to miss anything?" While I could write plenty of blog posts about my frustration about students who choose to miss this crucial time in building a learning community, I also submit to you that some of this is our fault. Any of us who have handed out the syllabus on the first day of class and proceeded to review the assignment requirements and course schedule contribute to students who think they can get everything they need by reading the syllabus on their own. When we have the students introduce themselves and share their majors in a predictable fashion, we forget how repetitive this gets and just how anxious it makes some students feel. There are alternate ways to begin to build students' confidence to engage, without having them do the same thing they're being asked to do in their other classes.
I asked Dave about his memories of classes where he had a great first impression and he shared this anecdote from an experience he had with an incredible teacher. He shared a story about his high school chemistry teacher. The first class focused on the theme that we don't always understand the things around us. Dave doesn't remember the details of the lesson, but he sure remembers how the teacher ended.
A candle was on a table in the center of the classroom. The students hadn't thought much about it, but a candle or light analogy had come up in one or two of the stories, so it didn't seem misplaced. In the few minutes remaining in the class session, the teacher picked the candle up off the table and proceeded to put it in his mouth. He then chewed, swallowed, and said:
Just remember, things aren't always what they seem.
Dave remembers looking at his fellow students in surprise and exclaiming, "This is going to be a great class." It turned out to be Dave's favorite class in high school, one that lived up to its initial promise. Given my clumsiness, I think it is best if I refrain from any activity that involves having a lit flame in class. However, we can all think about a powerful story, statistic or anecdote that will capture the imagination of our students and getting them excited for the learning that is to come…
Set a culture for self-directed learning and personal responsibility
My classes almost all use a blended learning approach. This format only works well if students understand that they are accountable for more than just what happens in the classroom, but that we need to build a community of learning that will extend to our engagement online. One EdTech tool that really helps build the bridge between online and in-person is Remind (formerly named Remind101). This semester, my introduction to business classes will be expected to complete the online portion of our class before 1:00 pm on Fridays each week. I'll be able to preschedule a message that goes out to them on Friday mornings, reminding them of the deadline and perhaps even using a bit of humor, since Remind now supports sending images, along with the text reminders.
Now if only we could get more of our students to read this article and consider ways they might make a good impression with their professors.
What did I leave out about making a good first impression in the college classroom? What else have you seen make a difference in starting off well in the semester? What powerful memory still remains for you, for what made a good start to one of the college classes you took?