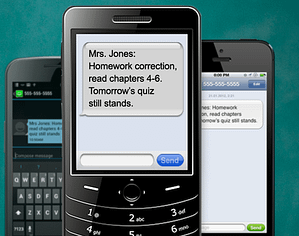 When I first heard about the text-messaging service for educators, Remind101, I had many reservations. My concerns have all been eradicated and Remind101 has become integral in my educational technologies toolbox. This post addresses how Remind101 meets my needs and about a recent update that will no-doubt make the service even more beneficial.
POTENTIAL CONCERNS NEGATED
Two of the main concerns I had about Remind101, when I first heard about it, were the ability for me to keep my mobile number private and the need for students not to rely on me, excessively, to remind them about tasks related to our course that were communicated in other places (such as the syllabus and our learning management system). Remind101 negates these concerns effectively, while offering additional features that enhance my efficiency and effectiveness.
Privacy
While I embrace technology in much of my teaching, I have no desire for students to have my cell number. Their sleep schedules are considerably different than mine and while I could put Apple's do-not-disturb iPhone feature into place, I still want to keep my mobile phone as something between friends, family, and business associates.
Remind101 doesn't let anyone see each other's phone numbers on the service. When you create an account, you are assigned a Remind101 phone number that students use to sign up in one of your classes. You create a class code to distribute students across your various courses. A student may sign up for as many classes as s/he is enrolled in with you, though the texts will not identify which class you are referring to in the message. For example, if you sent a text to your marketing class about Wednesday's exam, a student who was also in your business class wouldn't know which of the two courses you were referring to, unless you specified the specific class within the text message.
Grit
A characteristic being explored in emerging research is grit, or the ability to "sustain interest and effort to complete long-term goals" (Angela Duckworth). It has shown to be one of the best predictors of academic success and is measured through The Grit Scale.
I imagined I would contribute to a decline in a student's grit, if I were constantly using Remind101 to remind them about stuff they should have already captured elsewhere. When I had a dialog with my students about this, we talked about how we might, together, come up with a way of using the service to the fullest of its potential. The goal was to leverage the benefits of Remind101, without negating the need for students to take responsibility for their own learning and tasks associated with success in the class. While my results are anecdotal, I found the dialog to present an opportunity to talk about the kind of self-discipline it takes to achieve long-term goals and the students actually seemed to take more personal responsibility than other classes where I did not use the service.
Remind101 allows you to schedule texts to be sent in the future, so my administration of the service wasn't burdensome in the least. I also liked that when I truly had a need to communicate something urgent to my students (a change in location, for example), I could rely on Remind101 getting to the students far more than I could on them checking their email in a timely way. I'm still an advocate of getting our students in the habit of regularly checking email, as this is still a primary means of communication in most businesses. However, I had control over the few times I used the immediacy of Remind101 to get a message out quickly and made sure I still relied primary on email for essential class communication.
IT'S GETTING BETTER ALL THE TIME
Remind101 just came out with an update to their app. This time, they have added the feature to be able to text a picture to your classes. In their blog post about the update, they indicate that you could use this new feature to send: class handouts, pictures of the whiteboard, or homework assignments. I can see a lot of creative ways to use this in facilitating learning and look forward to seeing how it enhances my teaching in the Fall semester (I'm out on maternity leave until then).
Let us know in the comments what how you're using Remind101 or what ideas you have for using this new enhancement to their service.