Michael Hyatt's recent podcast on the tools that he uses to support his work inspired me. After almost ten years in higher education, I have certainly had my share of successes and failures when it comes to tools that I've used in my role as a professor.
This is the start of a series of posts I will do on the resources I have come to rely upon in facilitating learning. Since the majority of my teaching is in a hybrid format, with approximately 2/3 of the learning experience being in a traditional classroom, I decided to start with the answer to the question:
WHAT'S IN MY BAG?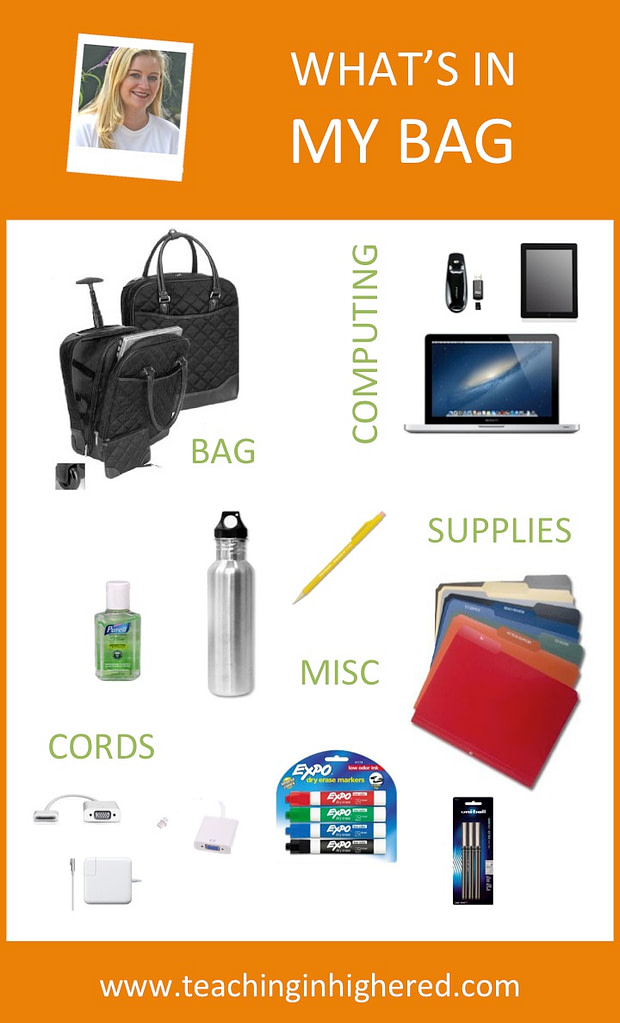 Let's start with the most obvious of places: the bag that I take with me each day that I teach. My husband, Dave, likes Tumi bags and has found them to be long-lasting and quality items. I went into a store in our local mall, looking for a Tumi bag and wound up getting a Serra Knomo rolling case, instead.
When I went looking on Amazon for the same one that I bought, I was unable to find one. However, the bag linked to above is almost identical to the one that I have. Key features that I found important in the bad were:
Ease of raising and lowering the handle

Place inside the bag for carrying water bottles (mine has a zippered pouch on both sides for water bottles)

Small footprint (past bags have been far too large to support my traveling from classroom to classroom during a busy day)

Plenty of pockets and compartments
The Serra Knomo one that I found had all of the above features and a simple, feminine look (including pink, quilted fabric inside). I have been happy with it, with the exception of two characteristics. When the handle is up and the bag is full, it has been known to topple over, in one case scratching the paint on our car. The top of the handle has a piece of leather that wraps around it, giving your hand a soft place to hang on to while you are rolling it. However, the leather has come unfastened from the metal handle and now I have to wind it around the handle each time I start to roll the case along with me.
Below are the rest of the items I carry with me in my bag, along with an Amazon affiliate link, should you wish to check the products out there.
I wasn't actually able to find the exact presenter remote that I use. They all perform about the same tasks, so it can be a matter of finding the right design to match your preferences, along with the right price point. I like the one I linked to above, because it has a built-in USB drive, so you could conceivably carry along your presentation file with you on it, in case you needed to use a different computer.
iPad projector connector
Mac VGA adaptor
Macbook Pro cord
These cords aren't cheap. Candidly, I have been known to lose them, so I have decided to always avoid buying Apple's branded cords and to get generic ones, instead.
At a future date, I will give a tour of my home office and show off my label printers. Suffice to say that having a durable, plastic folder, with type-written labels makes all the difference in my organization. I use a variation of David Allen's Getting Things Done methodology, so using his pre-printed folders, combined with some that I print labels for, myself, works well for me.
Both of the links for the devices above are to the newest versions. You can also find good deals on refurbished laptops and tablets on Apple's website. The only caution I would have is to get an iPad with a retina screen and one that mirrors everything you see on your iPad (as opposed to only showing Keynote slides).
I mostly use the markers that are provided to us by the university, which tend to be the least costly ones. When I decide to splurge and buy some of my own, I much prefer the low odor variety.
Rollerball pens, mechanical pencils, hand sanitizer, and reusable water bottle
I don't have any important information to say about the purchase of these ancillary items, other then to make sure that whatever water bottle you select is able to fit in your choice of bag.
*******************************
Now it is your turn. What's in your bag? What item did I miss listing above that you find particularly important to carry with you when you are headed off to teach?