Podcast (tihe_podcast):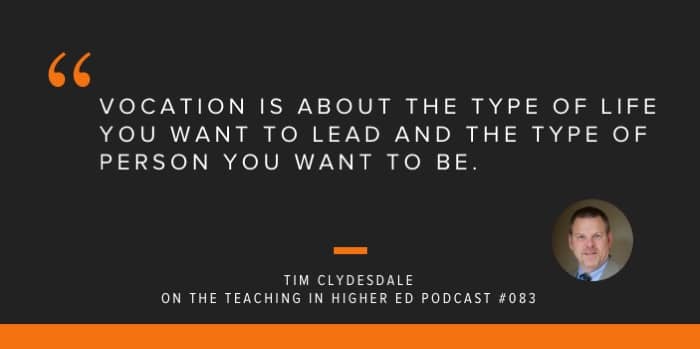 Tim Clydesdale talks about how we can all better support our students in navigating college and beyond by talking about vocation.
Quotes
[Vocation] is about the type of life you want to lead and the type of person you want to be.
—Tim Clydesdale

It may be that the broader sense of who you are isn't being fully expressed in your work but it's being expressed in many other places: in your volunteer work, or your care for a family member.
—Tim Clydesdale

Vocation is a much better way to talk to students [than career] because it captures much more of the breadth of life as it's really lived.
—Tim Clydesdale
Resources
What are some of the mistakes universities make when attempting to develop effective programs to facilitate more conversation about vocation?
Design a program that wasn't organic to the campus
Hiring people who didn't have a high emotional intelligence
Recommendations
Bonni:

Keep a list of ideas for each class you have been scheduled to teach.
Tim:

Good food helps with conversation. Use a slow cooker (Crock-Pot) with a manual switch. This allows you to cook but also be engaged in conversation.