Podcast (tihe_podcast):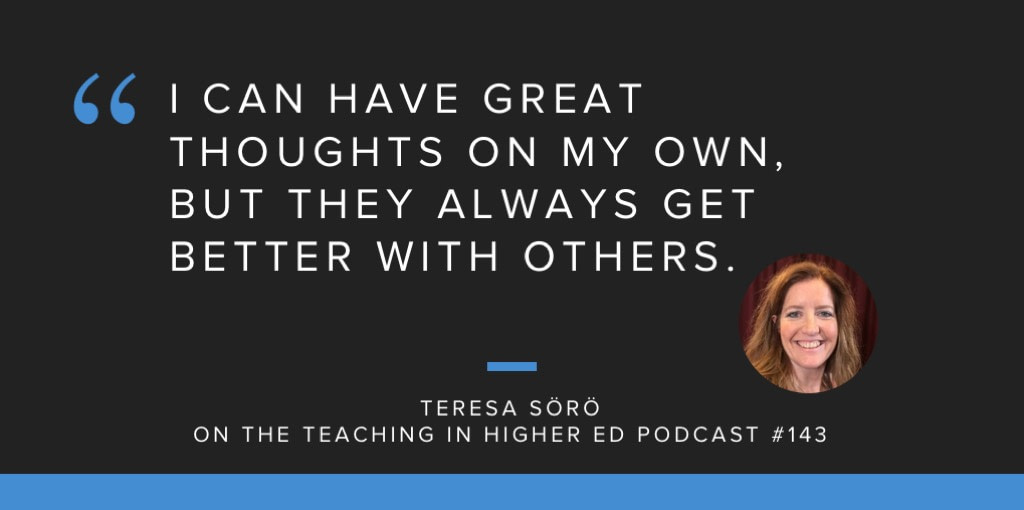 Teresa Soro provides ideas on how we can keep evergreen as professors and educators on episode 143 of the Teaching in Higher Ed podcast.
Quotes from the episode
No brain is very smart alone.
–Teresa Soro
You go from being the expert to being the one facilitating the learning.
–Teresa Soro
We need to let go of control — it's their learning.
–Teresa Soro
I can have great thoughts on my own, but they always get better with others.
–Teresa Soro
I think it's important to be able to allow a little bit more room for mistakes and creativity.
–Teresa Soro
Resources Mentioned
Are You Enjoying the Show?
Rate/review the show. Please consider rating or leaving a review for the Teaching in Higher Ed podcast on whatever service you use to listen to it on (iTunes, Stitcher, etc.). It is the best way to help others discover the show.
Give feedback. As always, I welcome suggestions for future topics or guests.
Subscribe. If you have yet to subscribe to the weekly update, you can receive a single email each week with the show notes (including all the links we talk about on the episode), as well as an article on either teaching or productivity.