Podcast (tihe_podcast):
Eight faculty share their failure stories on this special #100th episode of Teaching in Higher Ed.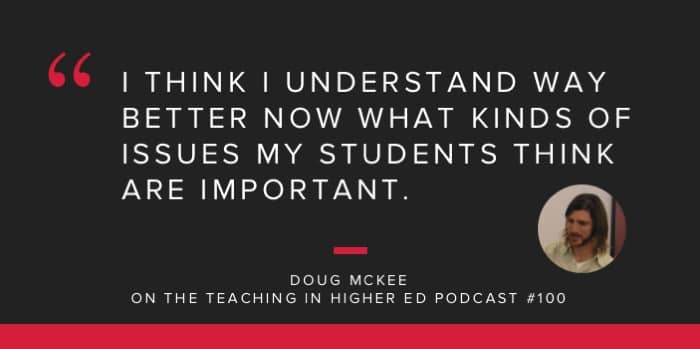 CV of Failures
Quotes
At the time, I felt like I had to know everything in order to be a good teacher, so instead of admitting that I didn't know the answer to the student's question, I dismissed it.
—Cameron Hunt-McNabb

I think I understand way better now what kinds of issues my students think are important.
—Doug McKee

I strongly identified with that strain of perfectionism that insists that unless every student in every class feels like every moment was a rich and profound learning experience, then I have failed.
—Jeff Hittenberger
Guest Stories
1) Katie Linder
2) Jeff Hittenberger
Felt like he had failed at the end of each semester.
3.) Angela Jenks
Didn't know how much the class textbooks cost.
4.) Josh Eyler
Gave quizzes just to test that students read.
5.) Michelle Miller
Didn't take care of a problem before it escalated.
6.) James Lang
Was not clear enough in assignment criteria.
7.) Cameron Hunt-McNabb
Thought she had to know everything to be good teacher.
7.) Maha Bali
Laughed at student's suffering … almost.
8.) Doug McKee
Recommendations
Books:
Janine Utell: Dear Committee Members* by Julie Schumacher
José Bowen: Teaching Naked* by José Bowen
Sean Micael Morris: Savvy* by Ingrid Law
Cameron Hunt McNabb: Tina Fey's advice to "Say yes" in her memoir, Bossy Pants*
Amy Collier: Quotes Anne Lamott: "These are the words I want on my gravestone: that I was a helper, and that I danced," from her book Grace (Eventually)*
Tools:
Doug McKee: Piazza*
Aaron Daniel Annas: Amazon Echo*
Teaching inspiration:
Rebecca Campbell: Be kind to students. Don't make assumptions.
Linda Nielsen: Cultivate your courage by trying out things you're afraid of.
Lee Skallerup Bessette: Be hopeful. Be optimistic. And give your students the benefit of the doubt right from the start.
Doug McKee: Try poster sessions with students.
Peter Newbury: Get yourself into a learning community. Get on Twitter.
Are You Enjoying the Show?
Rate/review the show. Please consider rating or leaving a review for the Teaching in Higher Ed podcast on whatever service you use to listen to it on (iTunes, Stitcher, etc.). It is the best way to help others discover the show.
Give feedback. As always, I welcome suggestions for future topics or guests.
Subscribe. If you have yet to subscribe to the weekly update, you can receive a single email each week with the show notes (including all the links we talk about on the episode), as well as an article on either teaching or productivity.