Podcast (tihe_podcast):
On this week's episode, Sean Michael Morris and I discuss Critical Instructional Design.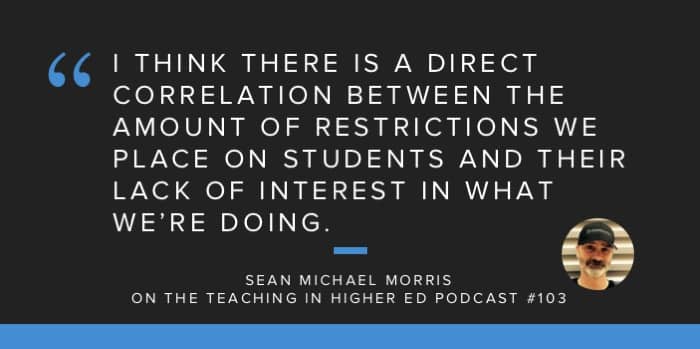 Guest: Sean Michael Morris
Sean is a digital teacher and pedagogue, with experience especially in networked learning, MOOCs, digital composition and publishing, collaboration, and editing. He's been working in digital teaching and learning for 15 years. His work as a pioneer in the field of Critical Digital Pedagogy is founded in the philosophy of Paulo Freire, and finds contemporary analogues in the work of Howard Rheingold, Cathy N. Davidson, Dave Cormier, and Jesse Stommel. He is committed to engaging audiences in critical inspection of digital technologies, and to turning a social justice lens upon education. More
Course: Critical Instructional Design
Quotes
[Instructional Design] makes very mechanical the non-mechanical nature of teaching. Certain processes are put into place where the spontaneity is taken out of teaching. The relationship is taken out of teaching. The care and nurture of the student is taken out of teaching.
—Sean Michael Morris

A lot of critical instructional design is questioning. It's a matter of stepping back and observing and saying, "What are the assumptions of the LMS? What are the assumptions that I make and have been given to make about online learning? And how can I switch that up?"
—Sean Michael Morris

I think there is a direct correlation between the amount of restrictions we place on students and their lack of interest in what we're doing.
—Sean Michael Morris

The more restrictions we place on learning, the less students have the ability to to explore it themselves.
—Sean Michael Morris
Resources
Are You Enjoying the Show?
Rate/review the show. Please consider rating or leaving a review for the Teaching in Higher Ed podcast on whatever service you use to listen to it on (iTunes, Stitcher, etc.). It is the best way to help others discover the show.
Give feedback. As always, I welcome suggestions for future topics or guests.
Subscribe. If you have yet to subscribe to the weekly update, you can receive a single email each week with the show notes (including all the links we talk about on the episode), as well as an article on either teaching or productivity.