This is a multi-part post in which I practice my curation skills and share what I'll be taking in to 2016 from the past year's podcasting efforts.
You may want to start with part 1, if you want to get all 15 lessons.
Lesson #6
It takes daily discipline to demonstrate the respect our students deserve.
While I have always cringed when colleagues at my institution have gone on a social media rampage to vent about their students, I will admit to having chuckled at some learners' version of historical events.
Kevin Gannon has been the "voice in my head" that ensures I only poke fun of myself on social media, instead of my students. There's plenty of material to draw from there.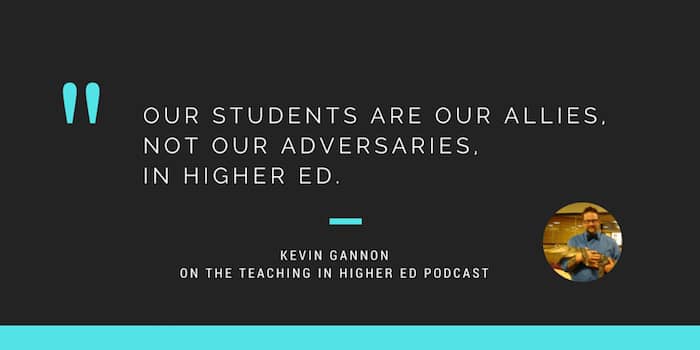 https://teachinginhighered.com/52
Lesson #7
People who are not like me are crucial to my lifelong learning.
On episode #053 Peter Newbury stressed the importance of having people who aren't like us in our personal learning network (PLN). I've thought, often, about the need to strengthen that aspect of my network and have benefitted from those times when I attempted to integrate someone who is unlike me into my personal knowledge management system.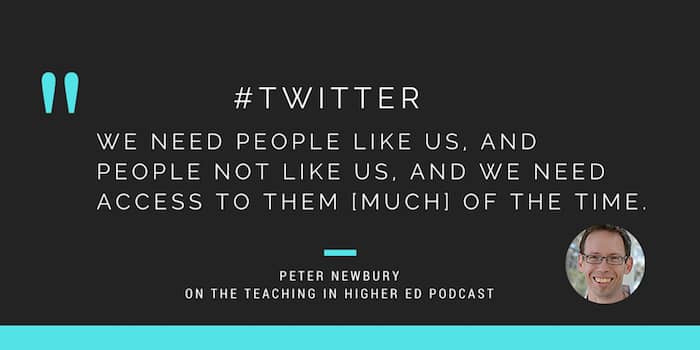 https://teachinginhighered.com/53
Lesson #8
Kindness matters
While I like to think that I have worked at not being rude to my students in the past, I certainly didn't contemplate ways I could be more kind. Jesse Stommel stated that kindness is a centerpiece of his teaching. He has challenged me to think more about what that might look like if it were the case with me, too.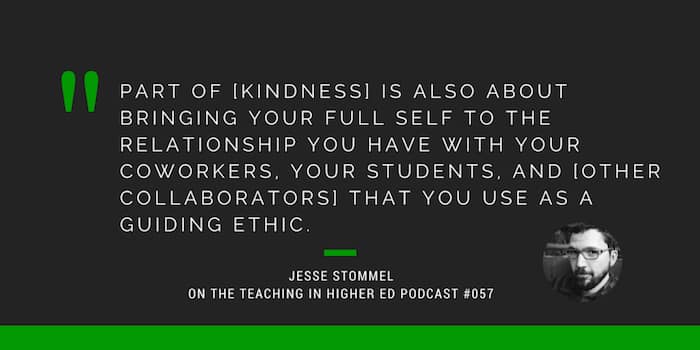 https://teachinginhighered.com/57
Lesson #9
It's gonna get messy
I've been surprised at how much messiness comes up on the podcast. Ainissa Ramirez spoke about learning happening after things get messy.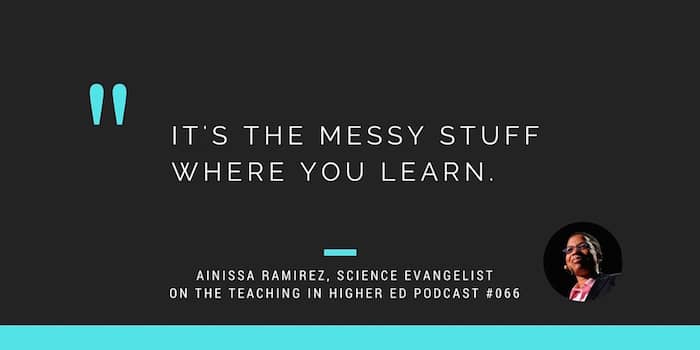 Amy Collier also introduced the term 'not yet-ness' to me and helped me be more willing to take risks in my teaching.

https://teachinginhighered.com/70
Lesson #10
Creating "times for telling" is more important than adhering to a consistent schedule/format in hybrid classes
Derek Bruff shared about his flipped learning model, which is quite different from how I've been approaching hybrid classes. He has continued to challenge me as I consider ways that I can create more "times for telling" in my classes and not stick so rigidly to my schedule/format of introducing concepts online before bringing them into the classroom.
https://teachinginhighered.com/71
Part 3 – coming soon
Stay tuned for next week's post with part 3 of lessons learned from podcasting in 2015.
[reminder]What is a lesson you're taking from the Teaching in Higher Ed podcast into 2016? [/reminder]