Podcast (tihe_podcast):
Doug Leigh on helping graduate students come up with interesting research topics.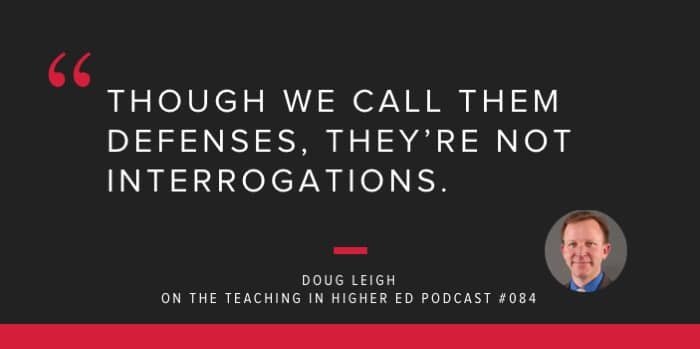 Dr. Doug Leigh earned his PhD in instructional systems from Florida State University, where he served as a technical director of projects with various local, state, and federal agencies. His current research, publication, and lecture interests concern cause analysis, organizational trust, leadership visions, and dispute resolution. He is coeditor of The Handbook of Selecting and Implementing Performance Interventions (Wiley, 2010) and coauthor of The Assessment Book (HRD Press, 2008), Strategic Planning for Success (Jossey-Bass, 2003) and Useful Educational Results (Proactive Publishing, 2001).
Leigh served on a two-year special assignment to the National Science Foundation, is two-time chair of the American Evaluation Association's Needs Assessment Topic Interest Group, and past editor-in-chief of the International Society for Performance Improvement's (ISPI) monthly professional journal, Performance Improvement. A lifetime member of ISPI, he is also a member of the editorial board for its peer-reviewed journal, Performance Improvement Quarterly. More
QUOTES
Some of the differences between doctoral work and master's work have to do with the amount of original data collection.
—Doug Leigh

I try to set up the expectation that when a dissertation chair is doing a good job, they're giving a lot of feedback, and that may involve several iterations of drafting.
—Doug Leigh

Though we call them defenses, they're not interrogations. They're not about getting lined up to be battered with questions to prove your worth before a student is allowed into the club.
—Doug Leigh

Students who can avoid just reaffirming what's already known are able to position themselves to do research that sticks with them as a passion.
—Doug Leigh
Resources
Doug also shares his reworking of Davis's index that he developed for his students, along with representative examples …
Recommendations
Bonni:
Doug: